Sale!
👉👉LAST CHANCE this Year to Enjoy Major Savings on the Complete 2M2P Suite!
No Downloads Required.  +FREE!! Past Performances for Every Track, Every Day!!
++ Dozens of Analysis Tools that Only Professionals Have Access to!
+FREE!! Len's
NEW MMMM Software Program!!
Description
👉👉LAST CHANCE

this Year

to Enjoy

Major Savings

on the Complete 2M2P Suite!

No Downloads Required

.  +FREE!!
Past Performances for Every Track, Every Day!!
++ Dozens of Analysis Tools that Only Professionals Have Access to!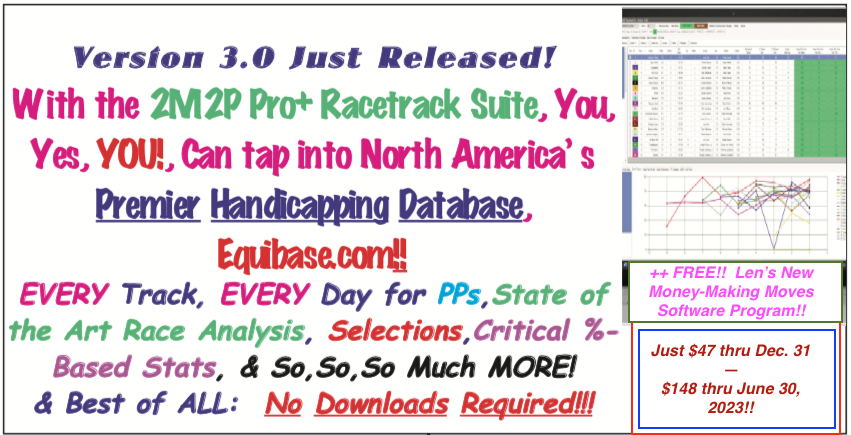 👉👉😃+++As a Super-Incentive to Introduce Yourself to
2m2p

we will Send You, Absolutely FREE!,

Len Cz's New

MONEY MAKING MOVES Machine SOFTWARE PROGRAM!

  –That's an $88 value,

YOURS FREE!!!
The New 2M2P V.3.0 Complete Racetrack Suite! –  You will Now Have Access to the Complete
Equibase©.Com

Million++ Racetrack Database!!!

  Read on>>>
With the Exciting Fall/Winter Racing Season under way (

Keeneland, Del Mar Fall, Gulfstream, Aqueduct, The BIG Santa Anita meeting, Oaklawn

), you will be fully prepared

to wager with Confidence!
>>>Get Access to the World's Largest and Most Comprehensive Thoroughbred Database f
or a Great Discount Price.

  But Hurry!!
Powered by
EQUIBASE®

– the World's Largest Supplier of Thoroughbred Past Performances & Data
LIMITED TIME OFFER – RESPOND QUICKLY!
>>>>

The

2Minutes2Post

Complete

'Suite'

of

Handicapping Power Products

– Just $47 thru December 31, 2022!!!  Or,

just $148 thru June of 2023!!!!

  Look what

YOU

get: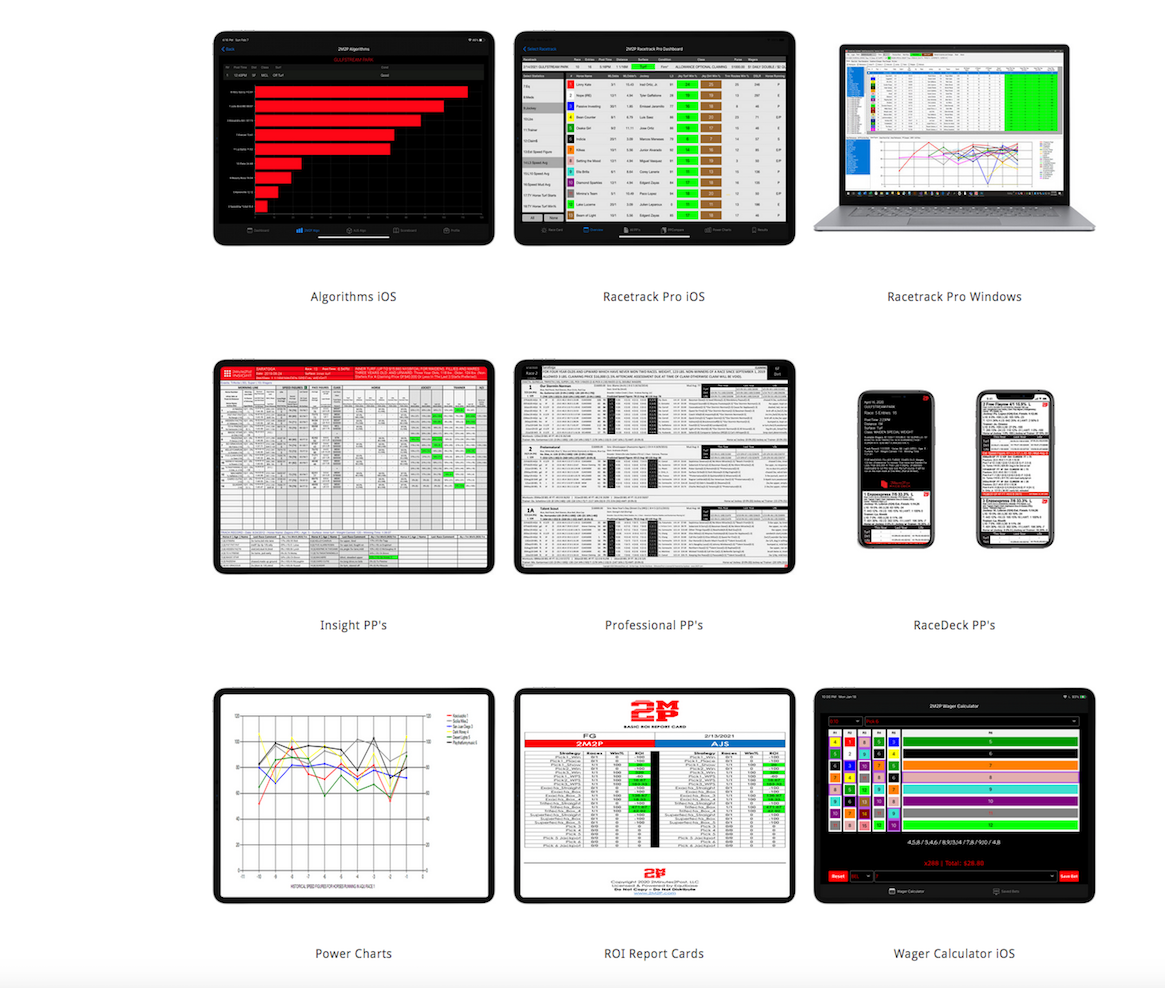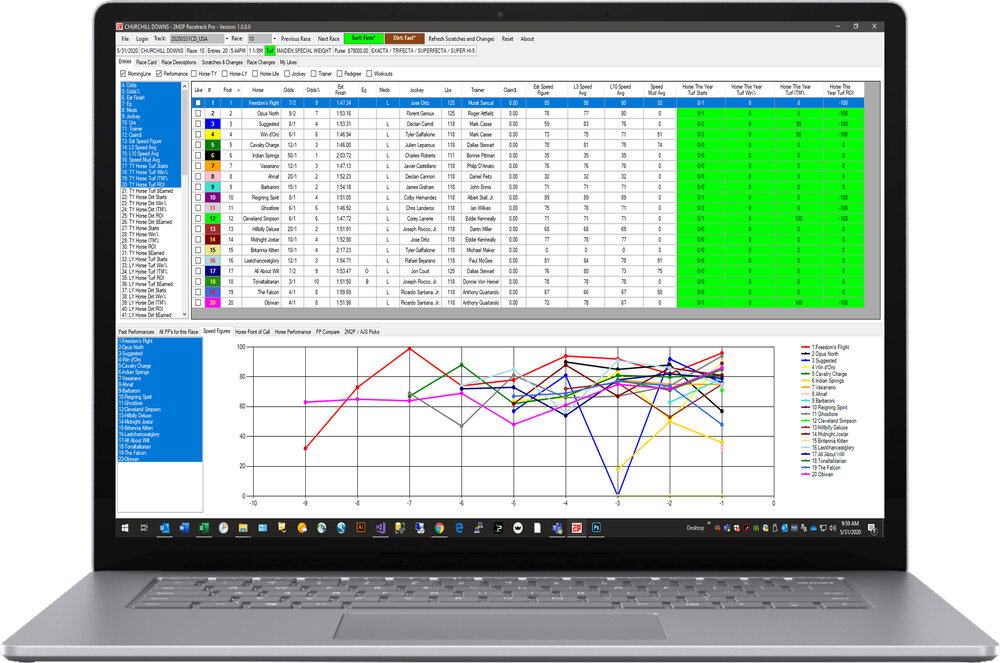 ☛All Relative Handicapping Data can be VIEWED and COMPARED – 👉Up to 190 Handicapping Categories can be THOROUGHLY Compared & ANALYZED!
**Compare Speed Ratings, JOCKEY/Trainer Stats, Lifetime Performance, Overall Earnings and Earnings on Turf, Dirt, Off-Track!
**DISPLAYS and compares Average Speed, Off-Track Speed — Even Estimates TODAY's LIKELY Speed!
👉(This is Neat!)**GRAPHIC DISPLAY CHARTS show PROJECTED Race Shapes, PROJECTED Speed Ratings at EVERY Call!
😯**POINT of CALL Charts Show YOU where EACH horse🐎 is projected to be at EACH Call.
>>

SCRATCHES, JOCKEY CHANGES, SURFACE Changes are UPDATED IN REAL-TIME!!! –

(Yes, late scratches or surface changes are immediately reflected by Equibase and all pertinent figures are updated on your screen(s) almost instantly!)



Racetrack PRO

checks every 5 minutes or so for late scratches, jockey changes, etc., so the database keeps you totally up to date!!
**😎😎AND There's
SO, SO MUCH MORE!**
LOOK!!!👀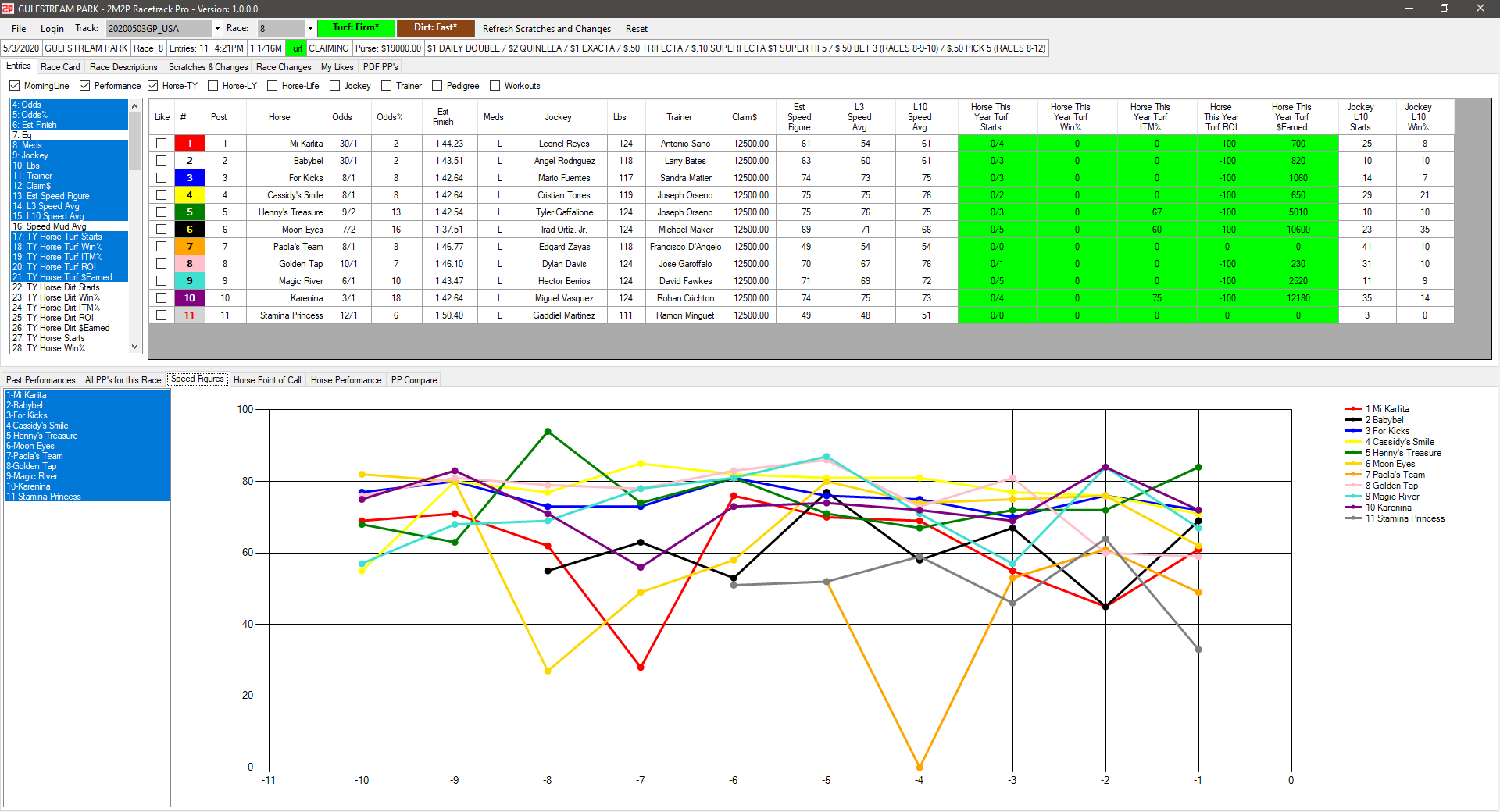 The main dashboard (above) offers several EASY to access features to handicap. Live track dirt and turf conditions are DISPLAYED at the VERY top and update in near real time. Scratched horses are AUTOMATICALLY removed from

EVERY

race, JOCKEY changes are AUTOMATICALLY reflected in the main grid.
The race information bar shows detailed race information on the race number that YOU selected. The top grid view

DISPLAYS

all of the entries in the selected race with

@200 different stats

that can be EASILY toggled BY selecting a CHECKBOX or selecting columns YOU want to see from a list BOX.
The bottom grid shows up to the last 10 Past Performances for the selected horse on the top grid.

Past Performances grid features advanced filter and sorting capabilities, just like YOU see in Microsoft EXCEL
Racetrack Pro allows YOU to have a Birds EYE view of EVERY past performance for EVERY horse in a race. The data grid features advanced filtering and sorting capabilities, just like YOU see in Microsoft EXCEL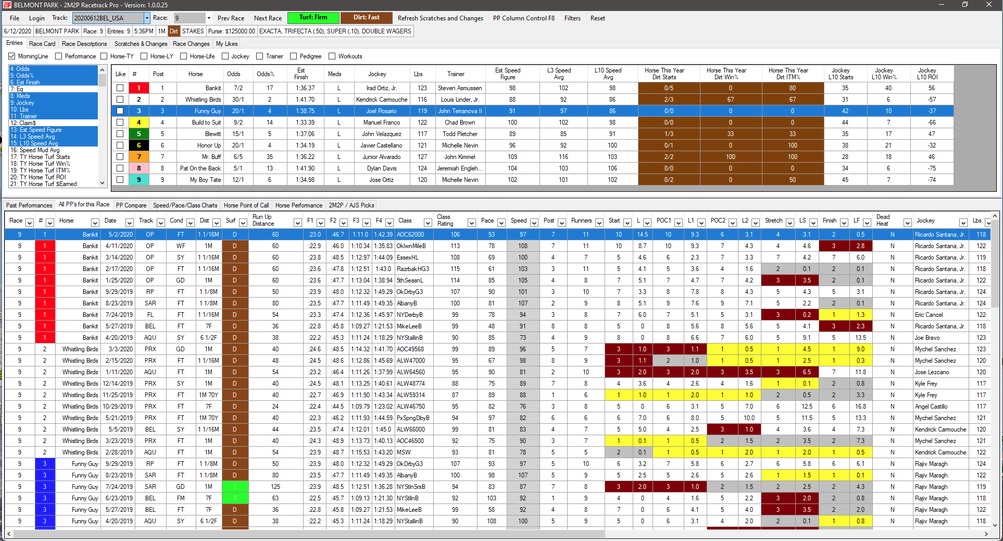 POWER CHARTS!:

  Compare Speed/Class/Pace Ratings for Every Race — See HISTORY of Speed/Class/Pace Ratings for

EVERY

Horse!
Visualizing horse speed figures has never been easier.

When YOU click into the Speed Figure tab, a beautiful EASY to read Speed Figure chart will DISPLAY, showing up to the last 10 speed figures for every horse in the upcoming race.

If you want to narrow the chart down to compare your favorite 3 or 4 horses in the race, SIMPLY de-select the horses you do not want to see. Hovering over a data point will DISPLAY a tool tip showing horse number and name.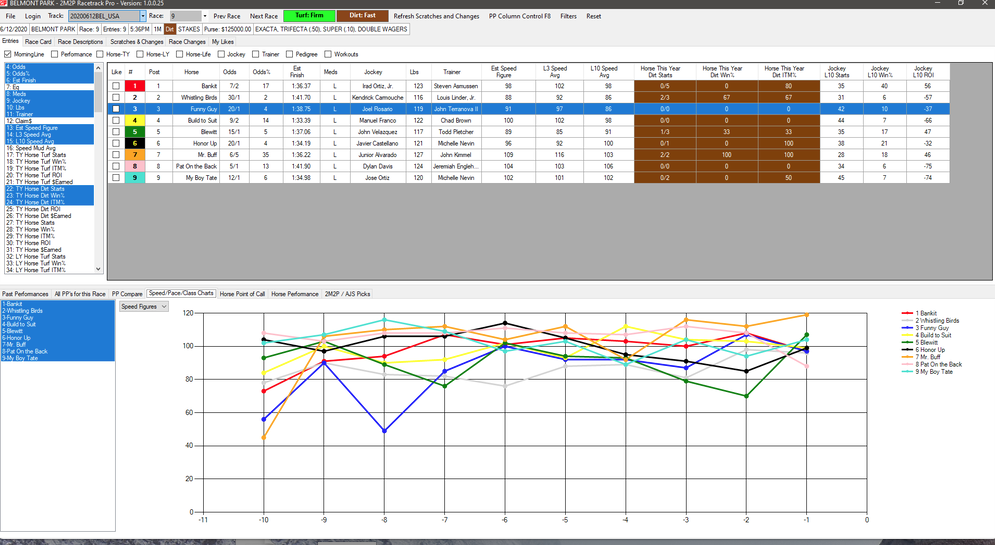 >>>

Professional Past Performances

<<<
🙁Spending mucho $$ for the Daily Racing Form?  😃Not any more! 
☛

ALL the PPs for

ALL the tracks

are available to you each and every day for each and every track!
2M2P Professional Past Performances

offer a traditional display of past performance data for experienced handicappers.

Professional PP's were designed in landscape orientation allowing for less clutter and an easier read for users.

Each page features past performance data for the horses, and includes ALL historical information and statistics for up to the last 10 starts of the horse's career.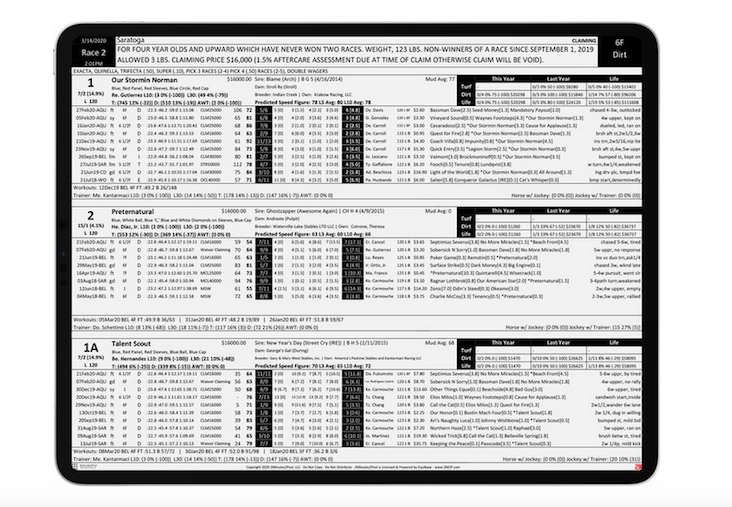 ☛

Also included:  'Race Deck'! for Your Mobile Device!
2M2P Race Deck is a

new and intuitive design for reading Past Performances on your mobile device!
2M2P Race Deck

features Jockey, Trainer, Horse statistics, Past Performances, Speed and Pace Figures, last workout, pre-calculated computations and more!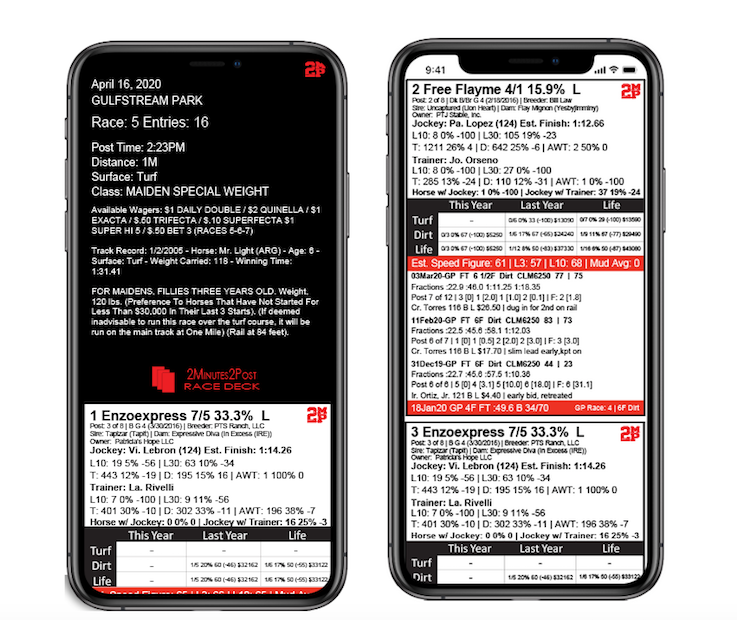 Point Of Call Charts & Lengths Visualizer!
Visualizing historical point of call data for individual horses has never been so simple.

Selecting the Horse POC tab will DISPLAY up to the last 10 races point of call data points for a horse in the race.

Point of Call chart can also be adjusted to show YOU ONLY the races YOU want to see.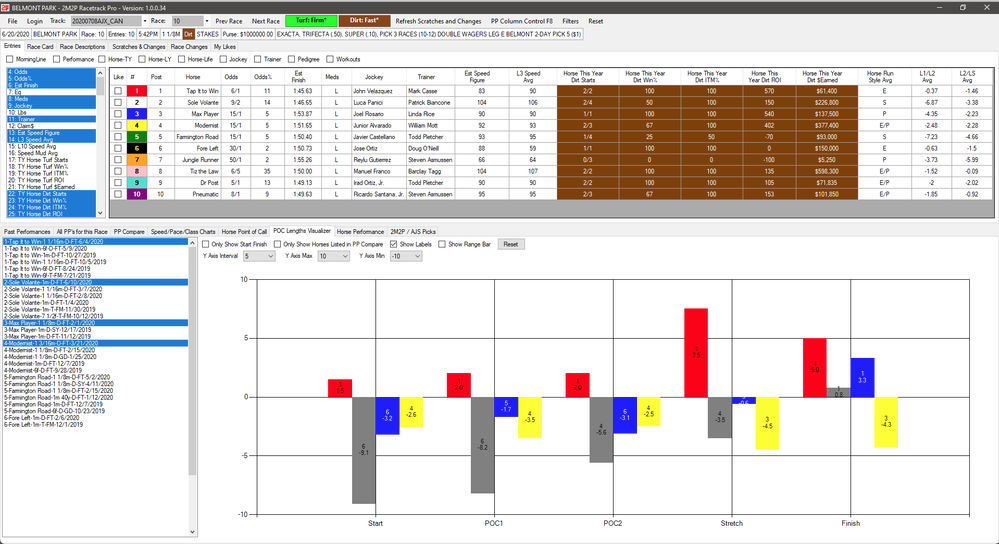 The 2M2P and AJS Algorithms are included in Racetrack Pro and adjust to scratches.
These are projections based on the 'simple' selection algorithms and can be used as a quick-pick solution or to verify your own selections based on your data input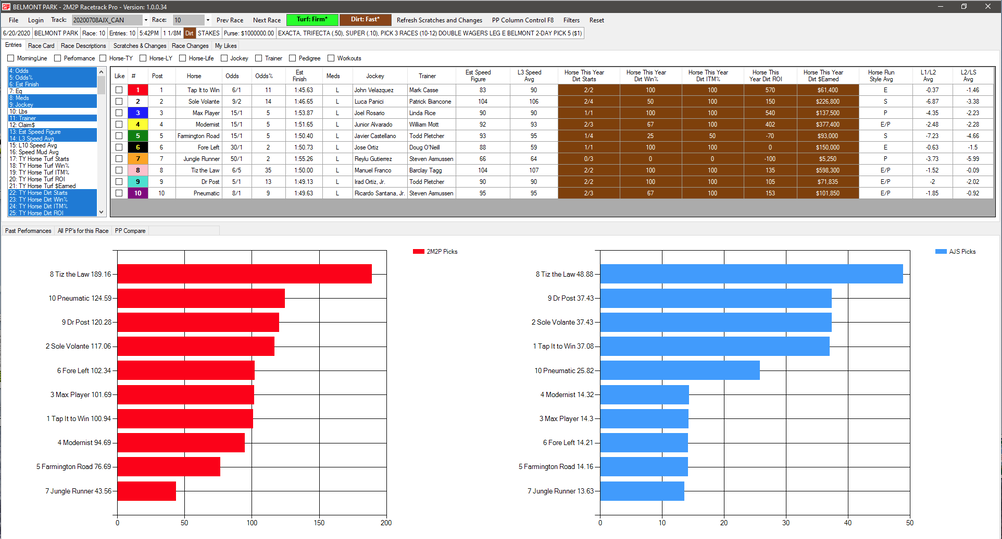 2Minutes2Post ROI Report Cards
👉Keeps you up to date, hourly, as to which of the above Selection Algorithms are producing profits and which are not.
The Equibase© Database

, which powers all of 2M2Ps Exciting features, keeps you totally up to date with late scratches, rider changes, track conditions, etc., so you are always on the cutting edge of what is happening NOW!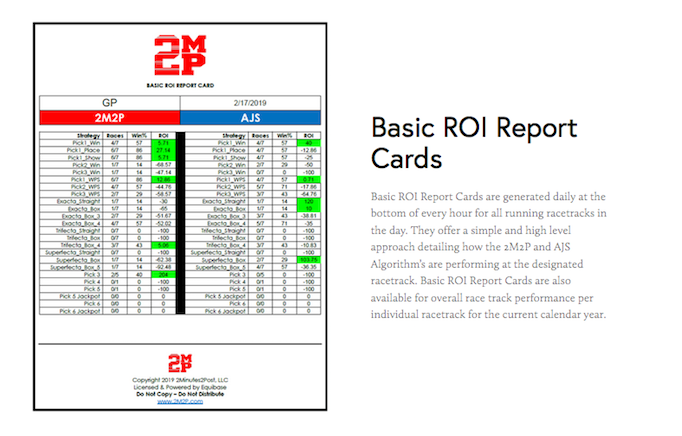 ☛☛

AND …. AGAIN, You Get COMPLETE & TOTAL Access to EVERY TRACK EVERY DAY until

December 31, 2022

for just $47 – or thru June of 2023 for just $148!!! 

**Regular price is $299, so please

ACT FAST!



☞☞

When you order you will receive and email directly from the headquarters of 2M2P.  You SIMPLY sign on to your account and, voila!,

all the info

,

all the tracks

,

all the stats

are VIRTUALLY served up to YOU on a silver platter.
👉👉Again, no downloads are required — you simply tap into the world's largest, most comprehensive Thoroughbred Database whenever you wish!
Complete user guide included and customer support whenever you need it!

>>

But HURRY – this offer ends soon (October 27)!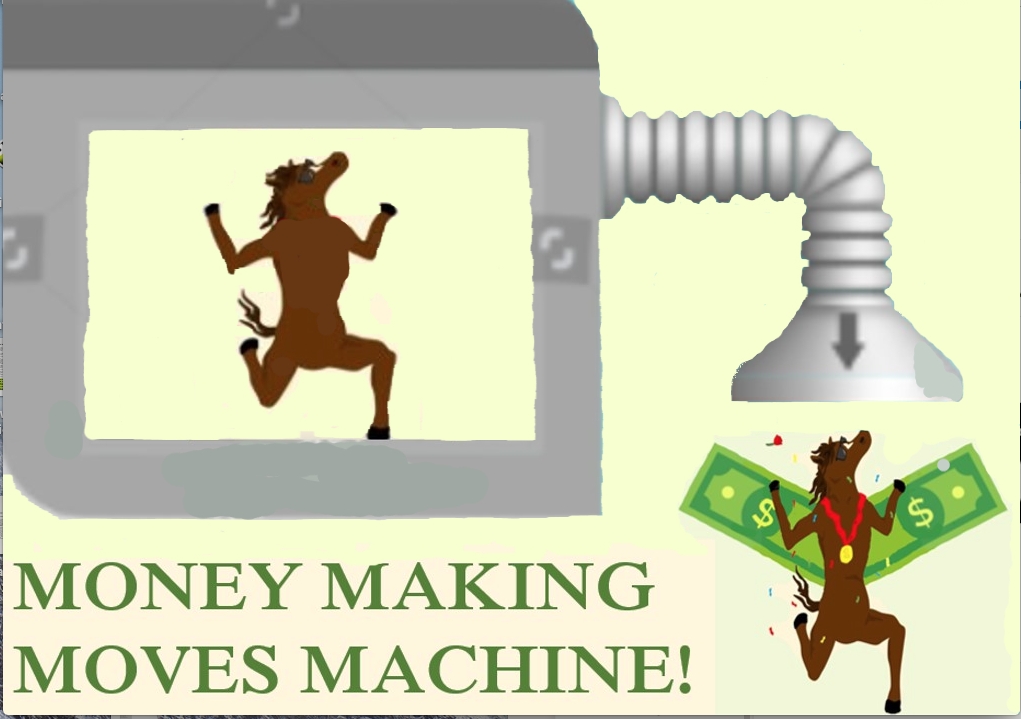 And Remember – You will also receive Len's New Money Making Moves Machine Software Program

FREEEE!
Call us at

1-800-696-0067

or order from our website.

Thanks!!
2M2P RaceTrack Pro Suite thru December, 2022, $47

(on website select 6m as your option)

  Thru June 2023, $148

(on website select 12m as your option)



Additional information
| | |
| --- | --- |
| 2M2P RaceTrack Pro for Windows | 12 m, 6 m |
| 2m2p | 2M2P thru June 2022, 2M2P thru all of 2022 |