Description
Last Chance to Get Most Sophisticated Racetrack Selection Tool in Existence for a $100 Discount!! 

SALE EXTENDED!

  Orders honored thru January 31!!
Introducing 2M2P Racetrack Pro!
The Ultimate Microsoft Windows based platform to handicap horses!
You Can Now have TOTAL Access to the Largest Handicapping Database in the Country!
☛

No Downloads Necessary – You simply Log In and

EVERYTHING

, ALL of the Stats you need to pick winners, are just a mouse click away. Every Track, EVERYDAY!
>
>

Order NOW and Get 2M2P Racetrack Pro for a

Full Year

, all of 2021, for just $199!! 
Or Take Advantage of Our 6-MONTH Plan for Just $99 (thru June 30)

!!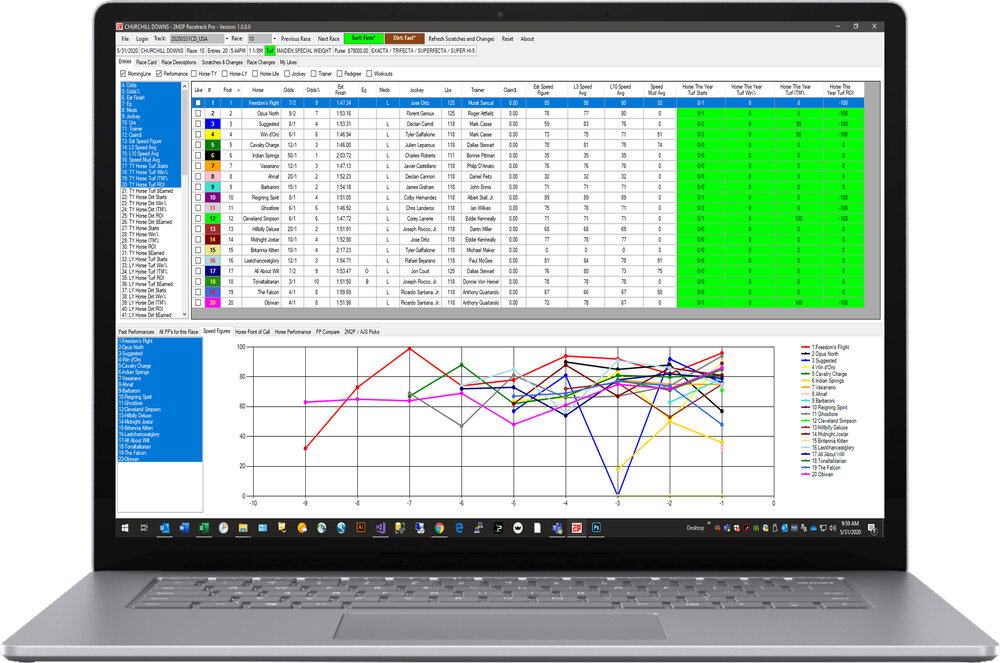 An Incredible Handicapping Tool!! Much, much more POWERFUL than DRFs Formulator!
All Relative Handicapping Data can be VIEWED and COMPARED – Up to 190 Handicapping Categories can be THOROUGHLY Compared & ANALYZED!
**Compare Speed Ratings, JOCKEY/Trainer Stats, Lifetime Performance, Overall Earnings and Earnings on Turf, Dirt, Off-Track!
**DISPLAYS and compares Average Speed, Off-Track Speed — Even Estimates TODAY's LIKELY Speed!
**GRAPHIC DISPLAY CHARTS show PROJECTED Race Shapes, PROJECTED Speed Ratings at EVERY Call.
**POINT of CALL Charts Show YOU where each horse is projected to be at EACH Call.
>>

SCRATCHES, JOCKEY CHANGES, SURFACE Changes are UPDATED IN REAL-TIME!!! – Racetrack PRO checks every 5 minutes or so for late scratches, jockey changes, etc., so the database keeps you totally up to date!!
**AND There's
SO, SO MUCH MORE!**
AND, if YOU ORDER 2M2P Racetrack Pro! soon,
YOUR PRICE is just $199 for ALL of 2021!
That's RIGHT!! Your subscription allows you to access the 2M2P Database for EVERY Track EVERY Day through December 31, 2021. 

Or, our 6-Month Package is just $99, and you get December 2020 for FREE with both Packages!



There are no downloads required on your part — you just log in and choose the track(s) you want.
  It's that simple!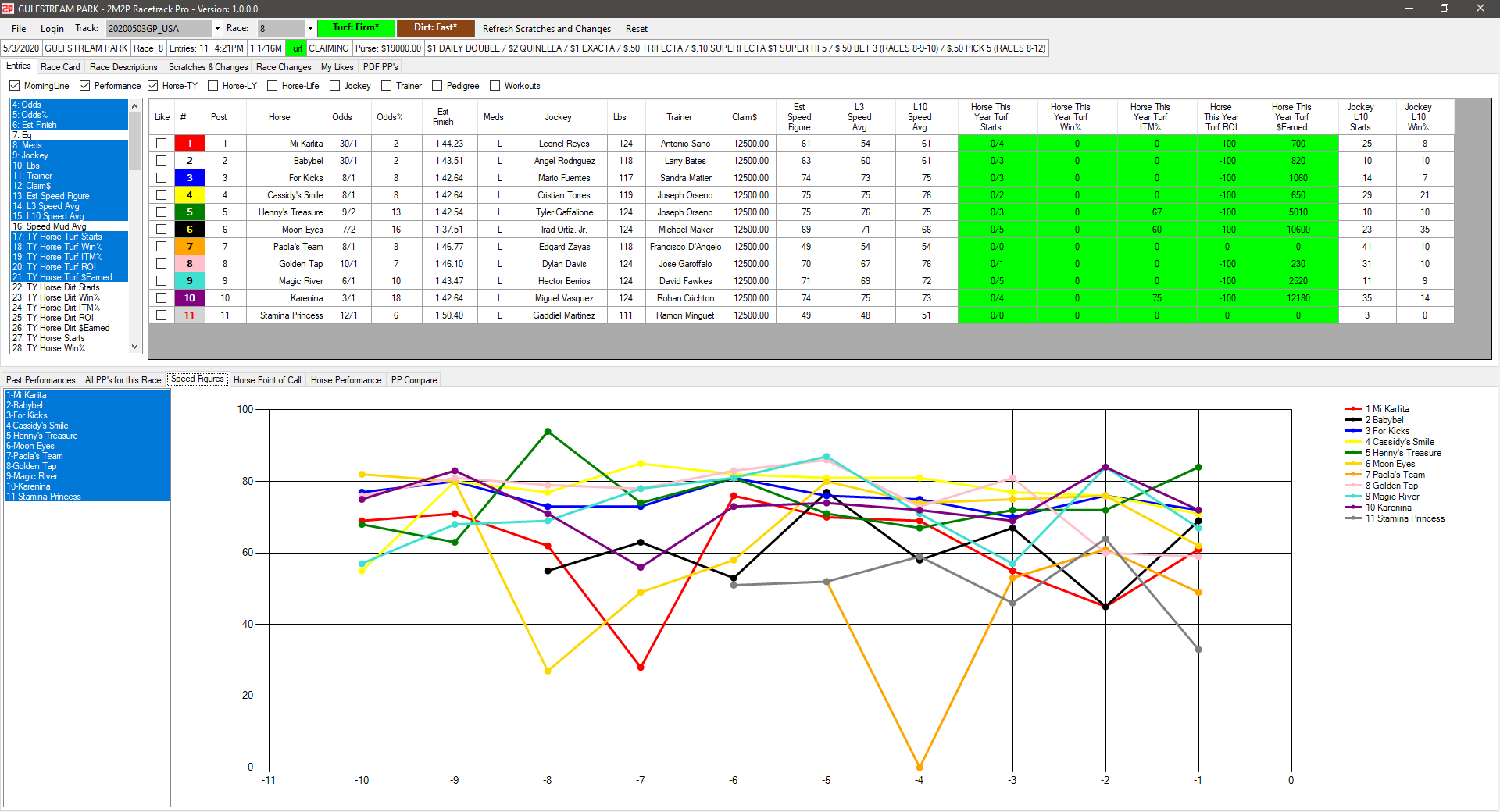 The main dashboard (above) offers several EASY to access features to handicap. Live track dirt and turf conditions are DISPLAYED at the VERY top and update in near real time. Scratched horses are AUTOMATICALLY removed from

EVERY

race, JOCKEY changes are AUTOMATICALLY reflected in the main grid.
The race information bar shows detailed race information on the race number that YOU selected. The top grid view

DISPLAYS

all of the entries in the selected race with

@200 different stats

that can be EASILY toggled BY selecting a CHECKBOX or selecting columns YOU want to see from a list BOX.
The bottom grid shows up to the last 10 Past Performances for the selected horse on the top grid.

Past Performances grid features advanced filter and sorting capabilities, just like YOU see in Microsoft EXCEL
Racetrack Pro allows YOU to have a Birds EYE view of EVERY past performance for EVERY horse in a race. The data grid features advanced filtering and sorting capabilities, just like YOU see in Microsoft EXCEL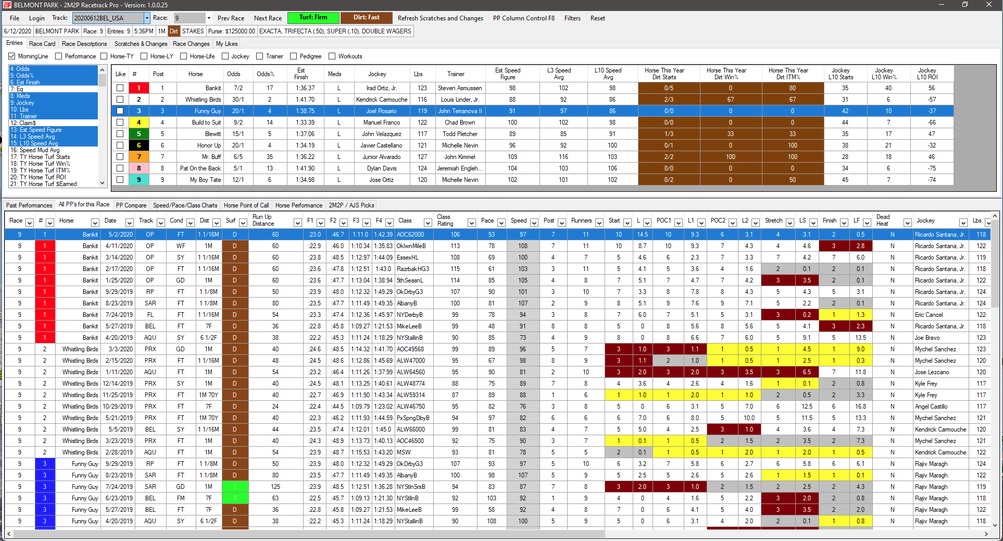 Compare Speed/Class/Pace Ratings for Race — See HISTORY of Speed/Class/Pace Ratings for EVERY Horse
Visualizing horse speed figures has never been easier.

When YOU click into the Speed Figure tab, a beautiful EASY to read Speed Figure chart will DISPLAY, showing up to the last 10 speed figures for every horse in the upcoming race.

If you want to narrow the chart down to compare your favorite 3 or 4 horses in the race, SIMPLY de-select the horses you do not want to see. Hovering over a data point will DISPLAY a tool tip showing horse number and name.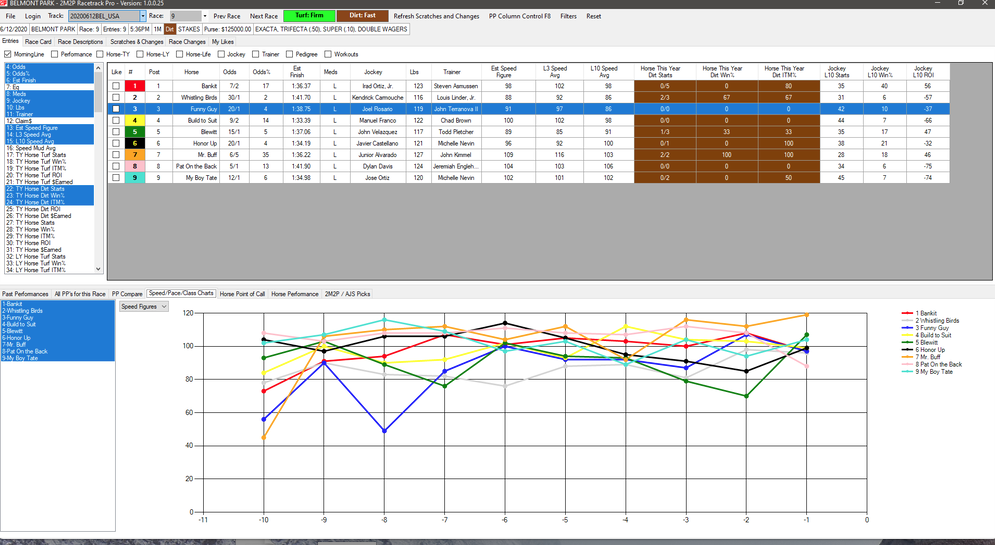 Point Of Call Charts & Lengths Visualizer
Visualizing historical point of call data for individual horses has never been so simple.

Selecting the Horse POC tab will DISPLAY up to the last 10 races point of call data points for a horse in the race.

Point of Call chart can also be adjusted to show YOU ONLY the races YOU want to see.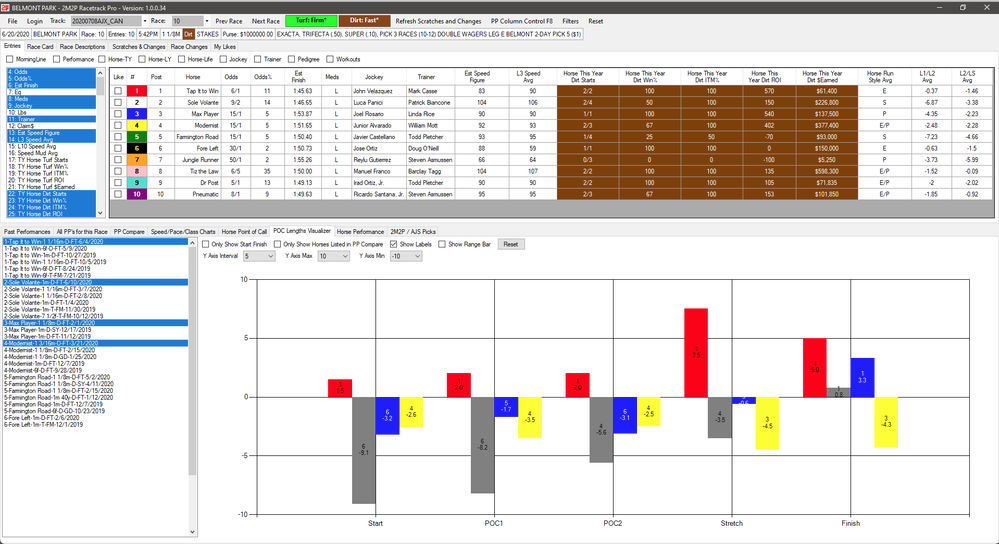 The 2M2P and AJS Algorithms are included in Racetrack Pro and adjust to scratches.
These are projections based on the 'simple' selection algorithms and can be used as a quick-pick solution or to verify your own selections based on your data input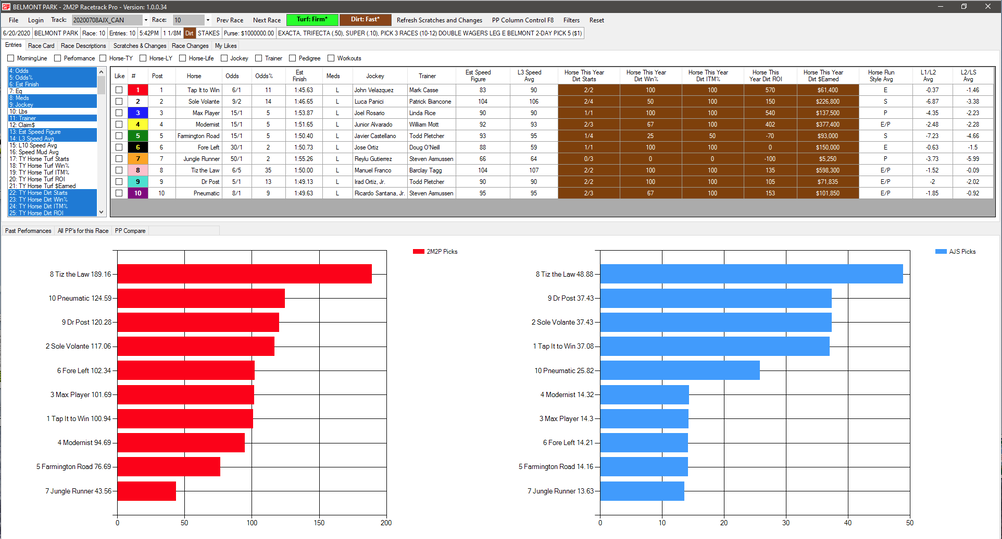 And, again – what YOU see above is just scratching the surface.
You can look at each horse's turf win%, dirt win%, most recent JOCKEY and Trainer stats (look at 10 races, 30 races, etc.), as well as their turf, dirt, off track starts, etc.
Also, ROI figures for EVERY Horse under every running condition, ROI figures for EVERY Trainer & Jock under EVERY condition (surface, claiming price, meds, etc.). And so much more.
 "With 2M2P Racetrack Pro you virtually have a front door and a back door into the largest handicapping database in the world.  This provides the ultimate edge for the player, bar none." Tom Console, Handicapping Author

AND …. AGAIN, You Get COMPLETE & TOTAL Access to EVERY TRACK EVERY DAY until December 31, 2021 for just $199!!! 

Until June 30, 2021 for $99.



You SIMPLY sign on to your account and, voila!, all the info, all the tracks, all the stats are VIRTUALLY served up to YOU on a silver platter.
But HURRY – this offer ends soon (January 31)!
Call us at

1-800-696-0067

or order from our website.

Thanks!!
2M2P RaceTrack Pro for Windows 12 month – $199

2M2P RaceTrack Pro for Windows 6 month – $99

Additional information
| | |
| --- | --- |
| 2M2P RaceTrack Pro for Windows | 12 m, 6 m |