$55.97 – $147.00
An outstanding COLLECTION of methodology, systems & tips from Pro's who actually rely upon the races for part of their living.  
Description
Editor's Note:
At the office, for years now, we have developed a 'theme' for the upcoming year.  
We'll be sitting around in December, perusing our potential offerings, and decide perhaps that we concentrate on speed methods/software, or maybe class & trainer material, exotics, etc.  
Well, for 2015, we decided that we would offer as much 'professional' information as possible.  
In otherwords, material from as many pro players as possible — those who would share their 'secrets' ('secrets' – otherwise known as 'years of study & hard work').  
We kicked the year off, as you know, with a condensed version of Tom Console's live Seminar (How I Win At The Races), a true professional approach to handicapping.  
And now, we are proud to offer what we call

EZMOPRO

:
an outstanding COLLECTION of methodology, systems & tips from Pro's who actually rely upon the races for part of their living.  
The Round Table Discussion between five professionals, alone, is incredibly enlightening —
rest assured that once you've read just this section of the 70+ page book, your attitude toward the game and playing skills will improve immensely.  
Enjoy — and we will also have the methodologies on SOFTWARE soon.
From David Powers:  Professional Secrets Revealed!
EZ-MoPro! (Easy Money-Pro)
A No-BS, True 'ShortCut' to Playing, and

WINNING

, Like a Pro!
"If your dream is to think, play and win, like a Pro, it's all here!"

    
Jon Worth

, Handicapping Author
The Smartest Way To Win At The Races
  How would you like to look back 12 months from now and be able to say you beat the races? 
Beat them soundly – pocketing several thousand extra dollars. 
Dollars you can use to invest, purchase a new car or home, take a great vacation, etc., etc.
            A little over-optimistic, perhaps?  Or even unrealistic?  Especially when 95% of horseplayers lose their butts, year after year?
  Don't tell that to the handful of 'annointed' ones.  Those horseplayers who play professionally and win on a consistent basis.
Don't tell them you can't beat this game.
They'll just smile and shake their heads, as they walk up to the windows to cash another big winning ticket.
But how does one acquire the knowledge necessary to join the ranks of the 'win'-crowd? 
Where are those secrets revealed?   Well, as it turns out, anyone can learn them. If they have about 20 years to spare, that is.  That's about how long the average horseplayer struggles to reach the top.  

But…
…if you don't have two decades to spare, there is an easier way:
*Learn from a Pro!
A fellow who has already paid his dues and is willing to share his expertise with you.
For a price, of course, but a very reasonable price, considering that if you practice what he preaches, your game is guaranteed to improve immensely!
Enter
David Powers

.  Teacher, Business Owner and, most importantly,

Winning Horseplayer!
David Powers has a great gift:
The ability to make a difficult subject, like thoroughbred handicapping, easy to understand. 
The ability to provide you with insights that lead straight to the cashier's windows.
He helps you see the BIG picture and fills you in on the smartest moves to make in every conceivable situation.
In a nutshell, he can show you the most viable ways to win!
David knows there are many more ways to lose than to win. 
He'll steer you past the rocky shoals that have shipwrecked the vast majority of horseplayers and out into the open seas where winning becomes a habit.  
He's here to help you make sure your investments at the racetrack leave you flush with cash – not broken-hearted!
What Is EZ-MoPro?
Easy-Money Pro

(EZ-MoPro for short) is the first publication to lay out tried-and-true methodologies used by Professional Horseplayers.
For the first time ever, the aspiring Pro will be clued into secrets of play known to fewer than 5% of all racing fans!  Like:
* (1)  A racetrack investment (system) that is dirt simple but has been a consistent winner since the early 60s when it was developed, and continues to roll up profits today.
*2) The closely guarded, published once-only method,

Handicapping Outside The Curve – Recognizing The Exceptional Horse

!,
by author Tim Maas.   

Many professionals recognize Tim's work as one of the most consistently profitable methods ever published  —
it originally sold for $195 –

but is included, gratis

, with Easy-Money Pro!
* (3) A money-management tool that virtually assures profits in the place and show pools!
* (4) Ever Heard of 'Daily Double' Don?
Well, did you know that the Daily Double these days is the most overlooked bet in horseracing,
thus creating solid overlayed payoffs?
Don will show a very simple method to catch payoff after Daily Double payoff  —
he actually makes most of his living off these bets and, in EZ-Money Pro, will share his secrets with you.
And so, so much more!!……
—How Taking The Best Advice From The Top Racetrack Pros Can Put You In The

Pink

,
and Keep You In The

Black!

—
Screenshot Examples Below:  EZMOPRO is not only great at picking winners, but excels in nailing Exotic payoffs as well.  In Fact –

in close to 70% of all races you will get a payoff, win/place/show, Exacta/Trifecta

–

often two or more payoffs

—

that's cashing a wager in 70+% of the races EZMOPRO makes a selection! 
CONSISTENCY — thy name is EZMOPRO!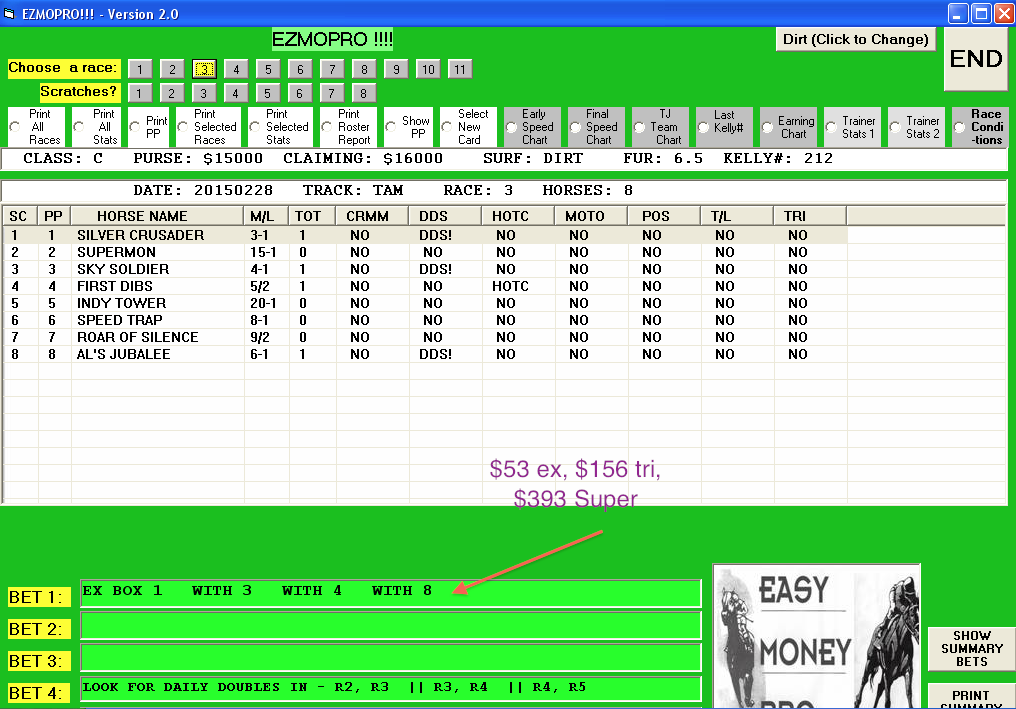 **Important Note:

  Dave also conducts a '

Round Table'

discussion with four other professionals that will literally blow you away!

  —
you may very well gain more racetrack wisdom, not to mention confidence, than you ever have from a single publication from this back-and-forth handicappers' gabfest alone.  
Publisher
Jon Worth

, who simple loves EZ-Money Pro, says:

"The reader will identify with so much in this discussion –
you will not only gain a boat-full of knowledge, but at times will laugh your socks off and realize that, yes, you, too,
can do what these folks have done – I've read this a dozen times and get more and more out of it each time."
 In addition to providing his own winning expertise, Dave also reveals secrets used by other Professionals he's acquainted with. 
Dave digs deep, into the far reaches of the world of professional handicappers, bringing you knowledge and winning methodologies from the 'inner-circle' of Pros.
**From the advice of just one of these fellows, you'll learn about a spot play that has yielded an average ROI of +43% over the past six years.  Think that's worth knowing?
**Or how would you like to hear from the Pro who makes a tidy living by betting nothing but Daily Doubles and shows you how, with a little practice and patience, you can do the same?
**And then there's the East Coast Trifecta King:  Bet you'd like to look over his shoulder!  Well, now you can. And there's more, a whole lot more!
**Like the 'T' Factor, a highly-profitable trainer move that can can be spotted in the Past Performance lines in seconds;
**'Ready' Randy's (from Philly) 'MOTO' Power Play; wait till you see this one!;
**The Texas Tomboy's 'Rolodex' PLACE/SHOW MOVE – conservative – super high % play;
**The Southern Cal Pro who has 'parlayed' his way to fame and fortune, etc.
Author Dave Powers has been at this game for a long time, and the plain fact is that he knows what works and what doesn't. 
Learn from his experience and perspective on the game.  In
EZ-MoPro

,

you'll find the keys that unlock many of racings most closely-guarded secrets.
Once you read EZ-MoPro, you can put your losing days confidently behind you!  The 'Dream' becomes Reality!
You want to win at the racetrack. That's a fact!
The information you need to win at the racetrack you'll find in Easy-MoPro! 

That's also a fact!
It would make perfect sense, then, to get your order in for

EZ-MoPro

today. 

Agreed?
The Easy-MoPro software will soon be ready, too!  It will include all of the angles listed above —  pre-order & save $51!!
Note: book is 72 pages in length.  
Ebook $55.97 
 Hard Copy  $65.00 
Software Version (includes hard copy) $198  **(software can be pre-ordered at
$147

, save $50 – will ship @Feb 19)
Call Toll Free  1-800-696-0067   online at : www.rpmhandicappinggiant.com
EZMOPRO Ebook $55.97
EZMOPRO Hard Copy  $65.00
EZMOPRO Software  $147.00
EZMOPRO Len Discount  $88.35
Additional information
| | |
| --- | --- |
| EZMOPRO | ebook, Hardbook, software |