$99.50
The MONEY HORSE! 
Spotting 'Inside Action' Horses without watching the ToteBoard!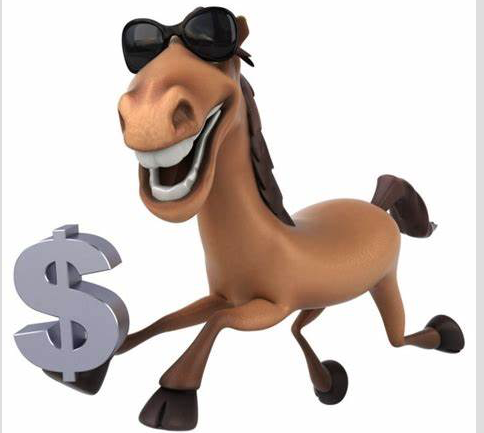 Description
---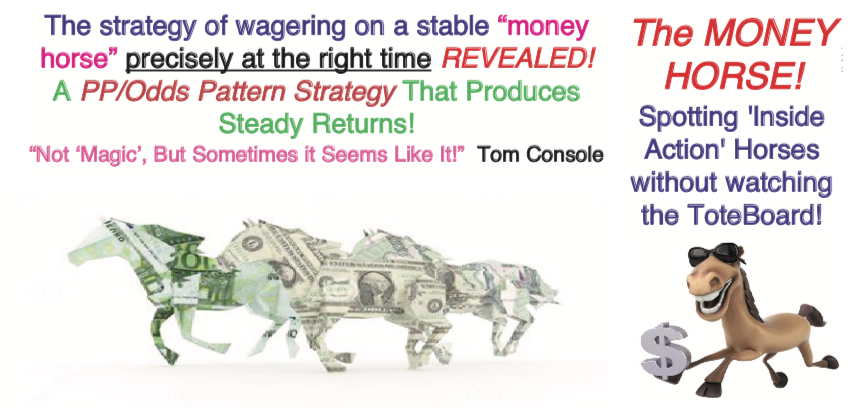 ---
The MONEY HORSE!
Spotting 'Inside Action' Horses without watching the ToteBoard!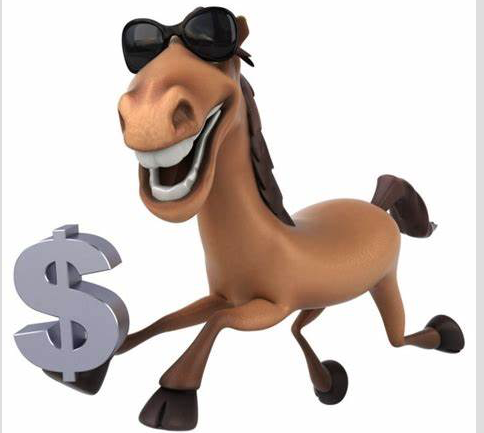 Here is the description provided to us by the company that originally published the methodology:
Most successful stables, especially those who race mostly claiming horses or low level Allowance runners, employ these techniques.



This powerful concept of exposing a stable's wager-ready horse is what Arthur refers to as

The MONEY HORSE!

 
These types will win fresh off of a layoff and often will pay double-digit prices! This runner can make or break its connections as inside big money is usually on the line. 

The stables and trainers that are able to pull these hits off consistently often makes more money wagering than in collecting purses.  But it takes work.  Look: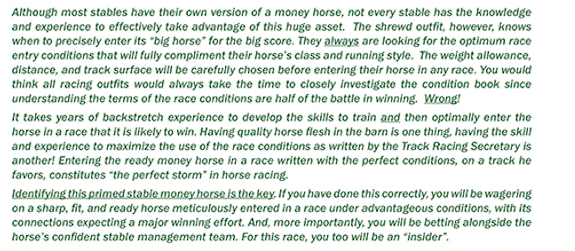 But in the process or readying a horse for a score, the aforementioned 'tells' will often show up in the past performances.

  And spotting these tells is where the real genius of

The Money Horse!

comes in.
😀The Money Horse:😃
👉Seeks out Patterns in the PPs and Recent Odds that Suggest a Big Effort is on Tap.
👉Analyzes Trainer Patterns  that have previously led to Strong Performances
👉Analyzes the

Conditions

of the Race to Determine if the Horse does, indeed, Fit at Today's Class Level and Distance
👉Analyzes Jockey Patterns and Recent Win Rates to Insure that He/She is a Good Fit with This Horse.
Also checks to see if Today's Jockey has had Recent Success on Horse.
👉High % Situations include when a horse is the only runner who gets points in the TOT column, and is also the Morning Line Favorite,

the win rate is in the 48% range and win/place rate in the 71% range.
The Cluster Effect
While every race does not contain a true set-up horse, the Money Horse!
nonetheless identifies patterns that suggest a horse is ready for a big race, regardless of whether it is a stable play or not. 

This results in superb consistency and creates what we call a

Cluster Effect

,

in that on any given day, the majority of the Money Horse selections will hit the board.

  Take a look at the Summary Bet sheets from Laurel and Oak Lawn on March 25.  You will see the same situation occurring at all tracks, large and small.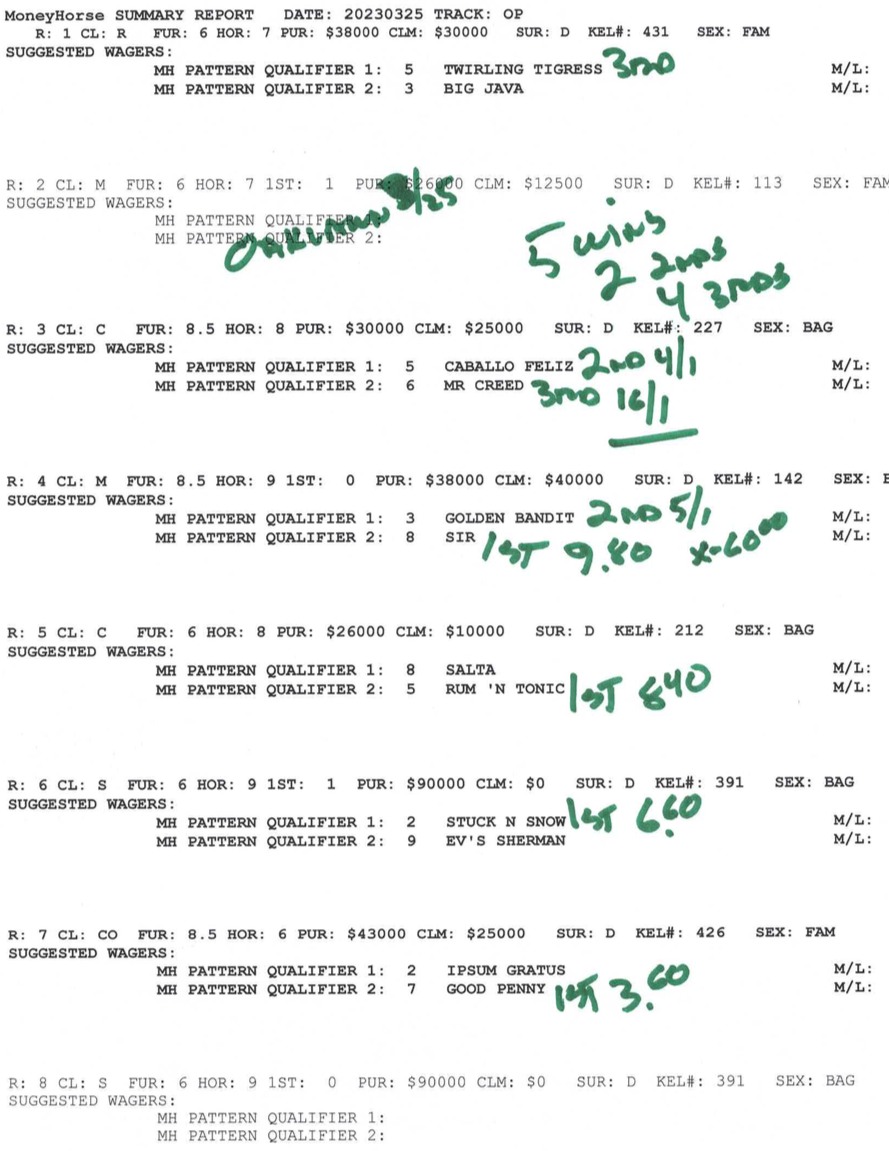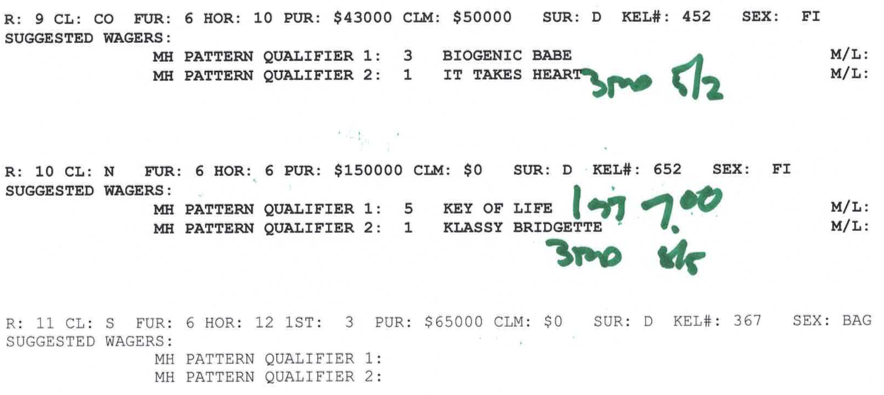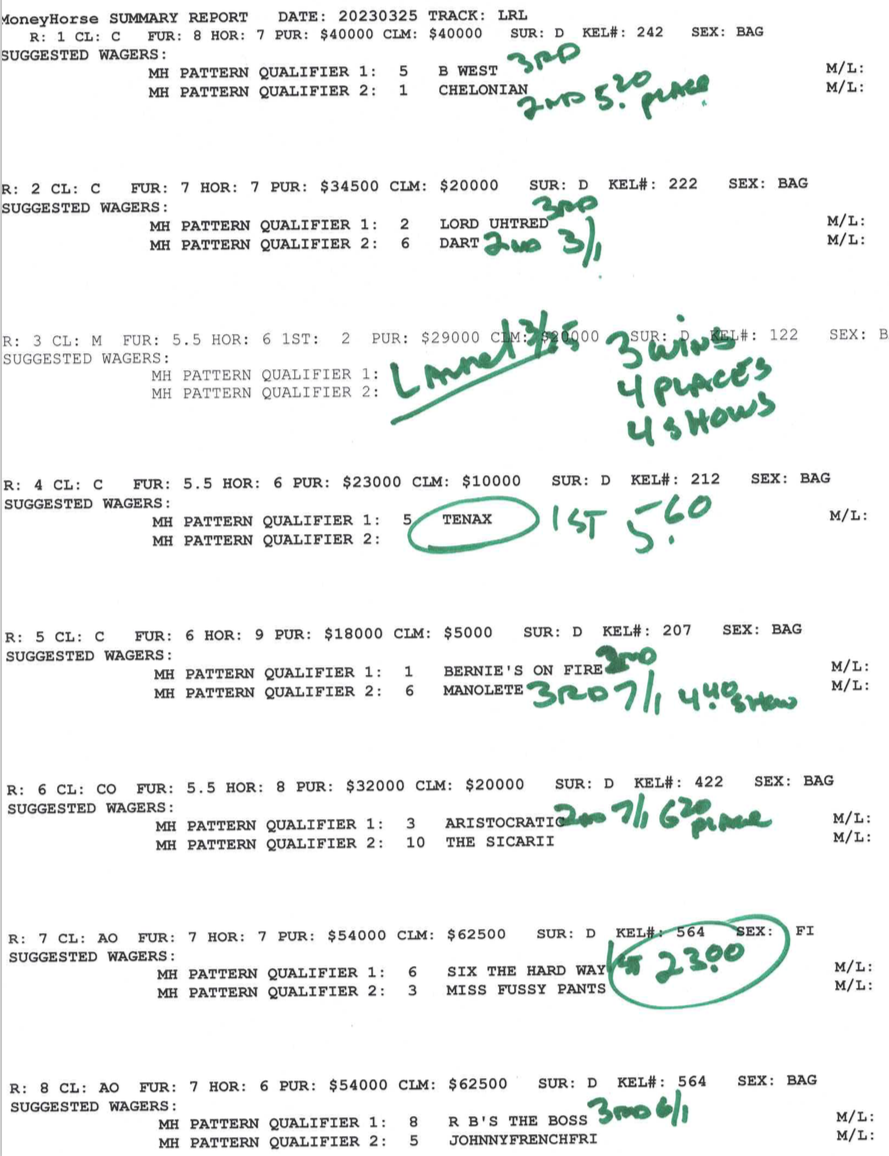 Now, if you can handicap this well, scoring with the majority of runners on most days, you don't need this program. 
However, we doubt that there is one in a thousand handicappers who is this competent,

so it makes perfect sense for most of us to acquire a program that is capable of this seeming 'wizardry'.
👉In reality, this is simply a program that is boasts extremely 'sound', but rarely used handicapping concepts that few players are aware of. 

And, it is extremely reasonably priced to fit into any player's budget.

  For just

$99.50

you can own this gem of consistency and,

of course, there is a full money-back guarantee.
And, you will also receive
FREE! 

The Money Horse Fail-Proof Bankroll Betting Plan!  This is a $59.00 value that we are including

FREE!

  with your order. 

Follow this plan to the letter, and positive returns are virtually assured.

  And it's Yours,

FREE!
Call us at

1-800-696-0067

or order from our website and, as always, call us with any questions you may have.
The Money Horse Software Program  
$99.50