We specialize in Horse Racing Selections and Analysis plus provide Free Picks, Horse Racing Information and Statistics, and links to Free Past Performances.
Thanks to our Horse Racing Information and Statistic reports, as many as 600+ Pick4win subscribers crushed the 2013 Kentucky Derby. Not only did we have the winner Orb on top, but we gave out a trifecta and superfecta wagering strategy that struck gold! Lots of my players and Twitter followers (@Pick4win) cashed in for the $6,925 trifecta, I know for a fact that two people who used the strategy went on to cash out the $57,084 superfecta. It was a very lucrative day for our Pick4win.com members indeed! [read more…]
Grass racing is my personal specialty, routes or sprints, I can find an overlay in almost any race.  I prefer turf due to the immense payouts it yields. Not only is it the most profitable, and rewarding surface for your betting investment, it's also the most exciting races to watch.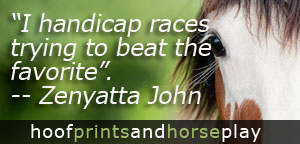 When making my selections, I don't pick morning line favorites to boost a win percentage. I handicap races trying to beat the favorite. I will help you stuff your pockets full of money by identifying those overlays, and exploiting bad favorites.
Some good stuff   >>> What is my betting strategy? I handicap and select 4 horses per race (plus another in case scratches) so multi-race and inter-race wagers can be formed. Currently, I'm focused on Belmont Park providing Pick3, Pick4 and possibly Pick5 wagering opportunities. Spot Plays may also be included in the daily selections. Tracks for potential Spot Plays include Santa Anita, Arlington Park, Woodbine, Monmouth Park, and Churchill Downs. If you follow my strategies, and adapt them into what you do, you'll see the proven results that I've come to see in my returns. [read more…]
How do you get all of these exciting selections?
Everyone needs a Membership Account, to get started with Pick4Win. With your free Pick4Win membership you will have access to all the benefits that Pick4Win.com has to offer. Picks are Friday- Sunday only (selections are daily during the 40 days of Saratoga). MEH..>> Once you complete your membership profile, and you're logged in, click link on the top navigational bar for Premium Picks. 'Single Day' purchases are now available in your Member Account, and the email link must be used for emergency purposes only! Weekend Pass, Weekend Warrior, and Lifetime Members – We encourage that you use your Member Accounts to get your selections. This will ensure you reap the best rewards for your selections, and can see updates on the results in case you need to compare for the next sets. [sign up now]
How do I make the big bucks?
I've been in the handicapping horse business for almost 30 years, and it's as exciting as opening day each time I set up a new winning selection. Sometimes you win, sometimes you lose, it happens, but don't let that hold you back from trying to find the next winner. This is where I will help get you that winning edge, by you being fearless, we can work together to find you the edge. I will show you how to bet, where to place your money, trying to help maximize your profits. Give Pick4Win.com your best bet by becoming a member today, and I'll see you at the races!
About Pick4Win:
Turf racing is my specialty, routes or sprints, it doesn't matter. I have studied grass pedigrees for years now and for getting good odds on a first time grass horse, it's a must. I have also become adept at handicapping Polytrack surfaces that arrived on the scene. I look for value in a race. I currently handicap races from the NYRA (Saratoga is my home course), but seek 'Spot Plays' from Churchill Downs, Santa Anita, Arlington Park, Monmouth Park, Delaware Park, and Woodbine just to name a few.