"If you have no idea why a trainer has entered a horse in a particular spot, then there is no way you will ever own an edge on this game. 

T

RAINER INTENTIONS ARE EVERYTHING!"
Andrew Beyer,

from his book Picking Winners
*****

Originally designed for two East Coast Professionals — now available on a limited basis to our clientele.

*****
THE MOVE!

–
A True Measuring Tool of

TRAINER

INTENT!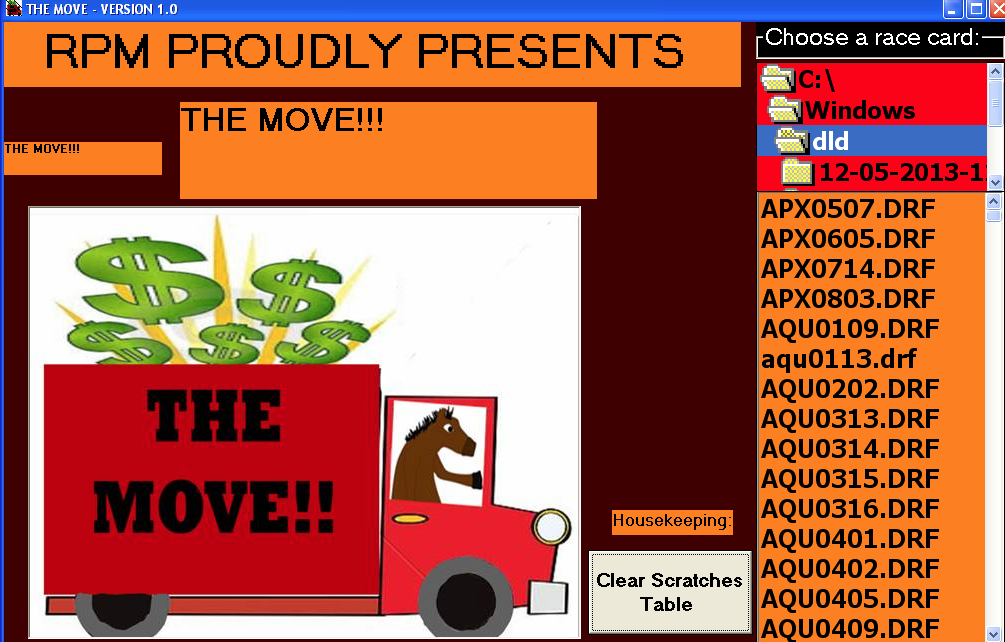 Wouldn't it be great if we could get into a trainer's mind?

I mean, really have a good idea of his/her thought processes when entering a horse into a race. Is the intention simply to get his runner some exercise while prepping for a future race?
Or does he feel that his charge has big chance to grab the fat end of the purse.
While the majority of the crowd was looking the other way: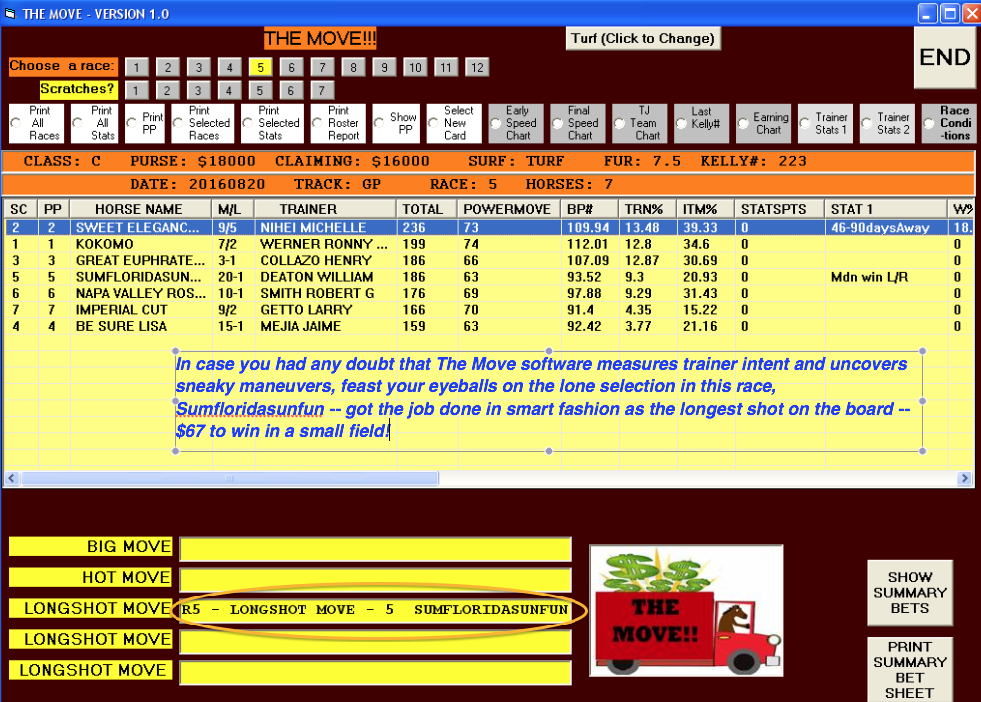 ****The most important fact 
horseplayers need to know about trainers:****
<<<

If a trainer does not win races, he doesn't eat, and his family doesn't eat. I

n short, every trainer is in the business to make a living, and most want, of course, want to make a good living.

That can come from not only winning races and frequently running in-the-money, but also from cashing wagers when the trainer feels his horse is prepped to run big.

>>>
Screenshot of Arlington 4th, 7/14:  A Longshot Move by trainer Kordenbrock — Eternal Ruler wins easily at $13.40   — The other

Longshot Move

horse, Kanagaro, just missed 2nd at 7-to-1.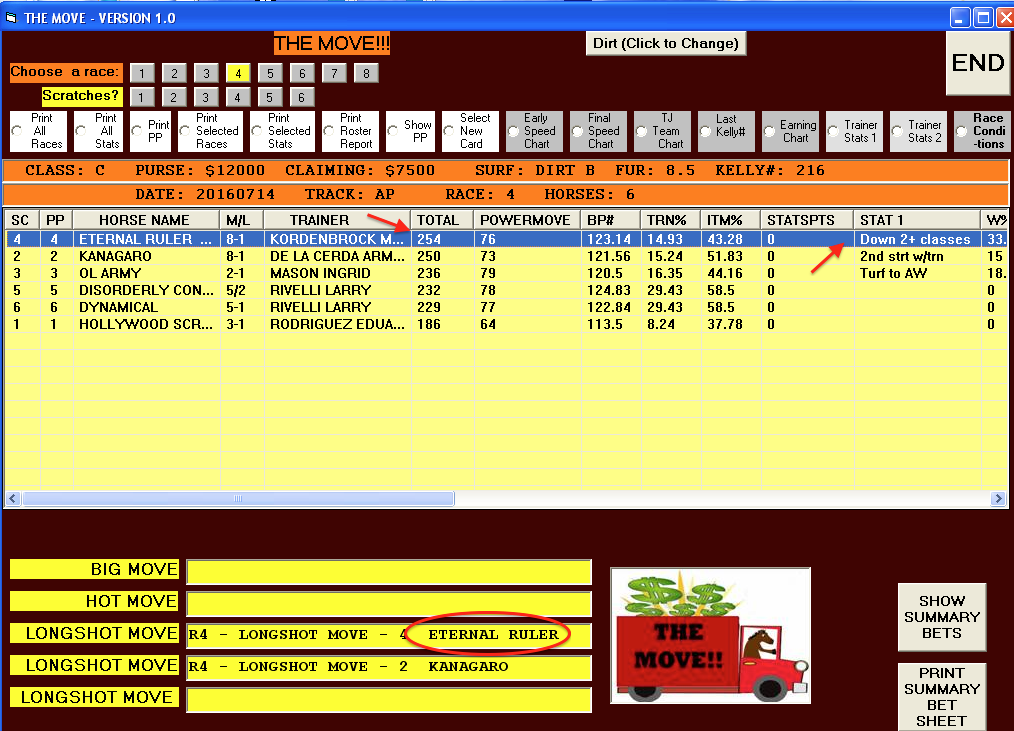 >>>

The trainer, therefore, has to determine where his horse will run best, where it will have the best chance to capture a piece of the purse and, often, how the stable can best cash in by wagering on the horse.

<<<
The fact is, that while a competent jockey is very important, the real 'brains' behind the animal is the trainer.  What separates the good trainers from the bad?  Most know how to condition a horse; how to feed and nurse soreness and injuries.  So what makes the difference?  In one word: 
Spotting

.  By 'spotting',

we mean the ability of the trainer to 'spot' his horse in a race he can win or collect purse money. 

What's so hard about that, you ask?
Well, the simple fact is that most trainers tend to be overambitious with their stock.  There is a natural tendency to overestimate the ability-level of a runner.  Therefore, you will see animals who are constantly entered in races where they do not belong – the competition is simply too tough for them.  And, often, rather than drop them in class, the trainer continues to 'spot' the horse too ambitiously. 
Millions of dollars are wasted daily betting such animals.
The real winners in the trainer game are the 'realists' – conditioners who can accurately gauge the ability level of the horses they are training.

  They 'spot' their charges in races where they feel they will be competitive.  If the horse doesn't run to expectations, the smart trainer will continue to try to find the proper spot for his charge.
And, as horseplayers, we should ask the following questions of every horse in the race: 
>>>

Why did the trainer put

this

horse in

this

race?  What are his/her

intentions?

  
When we are able to get the answers to these questions right most of the time, we suddenly promote ourselves into the realm of the professional thinkers — the professional handicappers!
And the truly competent, winning horseplayers, who have years of experience at the game, can do exactly that. 
But what if you don't have the experience, or don't want to through the work required to gain this edge?  Well, your answer is —
The MOVE!  
A software program that comes darned close thinking like the experienced handicapping 'brain' in determining Trainer Intention.  Look:
Think the trainer was surprised her horse won?  Doubt it seriously, since

The MOVE

identified her as a trainer who has cashed in with price horses coming off layoffs of 45 days or more several times.  Would the average fan betting Arlington that day know this?  Of course not – they wouldn't have a clue.  But

The MOVE

software told us that this trainer was serious on this day – Chances are the stable cashed in handsomely as well.
Below: Small field, but a big

MOVE

Exacta Payday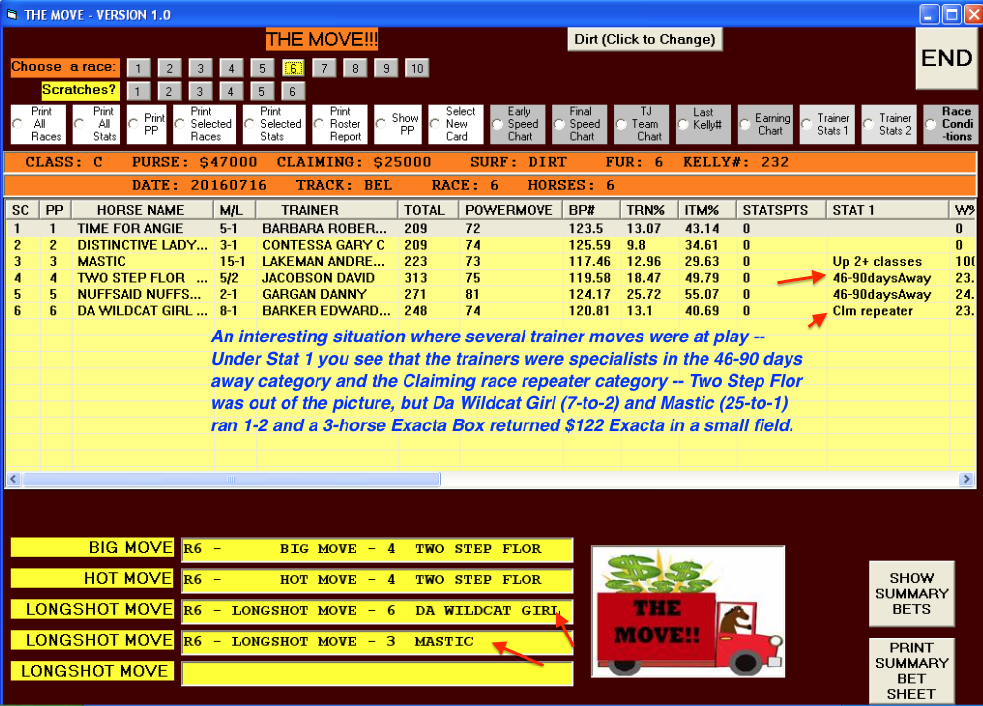 The MOVE

analyzes 51 different trainer angles

using an internal program called

MasterStat Pattern Finder

, 

and spotlights the trainer(s) whose expertise match most closely with today's conditions

, be it surface, distance, surface switch, distance switch, class, class drop, class rise, recent claim, 2nd-time starter, 45+ day layoff, 90+ day layoff, blinkers on/off, etc., etc., etc.
Below find a listing, in abbreviated form, of the trainer 51 category factors that are analyzed by

The MOVE's

proprietary algorithm

 

MasterStat Pattern Finder

:
"1-5 days away "  "1st after clm  "   "1st at route "  "1st on grass "   "1st start w/trn "  "1st Time Clmg  "  "1st time lasix  "  "1st Time MdnClmg"  "1st time str   "  "1stTimeBlinkers "   "2nd after clm  "  "2nd career race "   "2nd grass race  "           "2nd off layoff  " "2nd Rte race"              "2ndstrt w/trn  " "2nd time Lasix  " "2YO  " "3rd off layoff  " "46-90daysAway   " "90+ days away   " "AW to Dirt  " "AW to Turf    " "Blinkers off  " "Blnkr back on "  "Btn favorite    " "Clm repeater"     "Debut >= 1m "    "Debut Mdn Clm   " "Debut vs Wnrs   " "Debut MdnSpWt "
"Debut Turf "  "Dirt to AW      " "Dirt to Turf    " "Down 2+ classes " "Drops off claim " "Drops off win   " "Graded Stakes   " "Mdn win L/R  " "No Class Chg  "  "Rte to Sprint   " "Shipper  " "ShipperToU.S. " "Sprint to Rte   " "Sprnt-Rte-Sprnt " "Sprnt-Sprnt-Rte "  "Turf to AW  "
"Turf to Dirt" "Up one class " "Up 2+ classes "  "Wnr last race "
The Program will tell you, instantly, which trainers have above-average to excellent success with any of these stats that are relevant to today's race.
When Trainer Rudy Rodriquez puts blinkers back on a horse, he wins one out of three times and finishes in the money over 50% of the time.  Oops, looks like the crowd had no idea a money move was being made here.  $16 for folks using The MOVE program.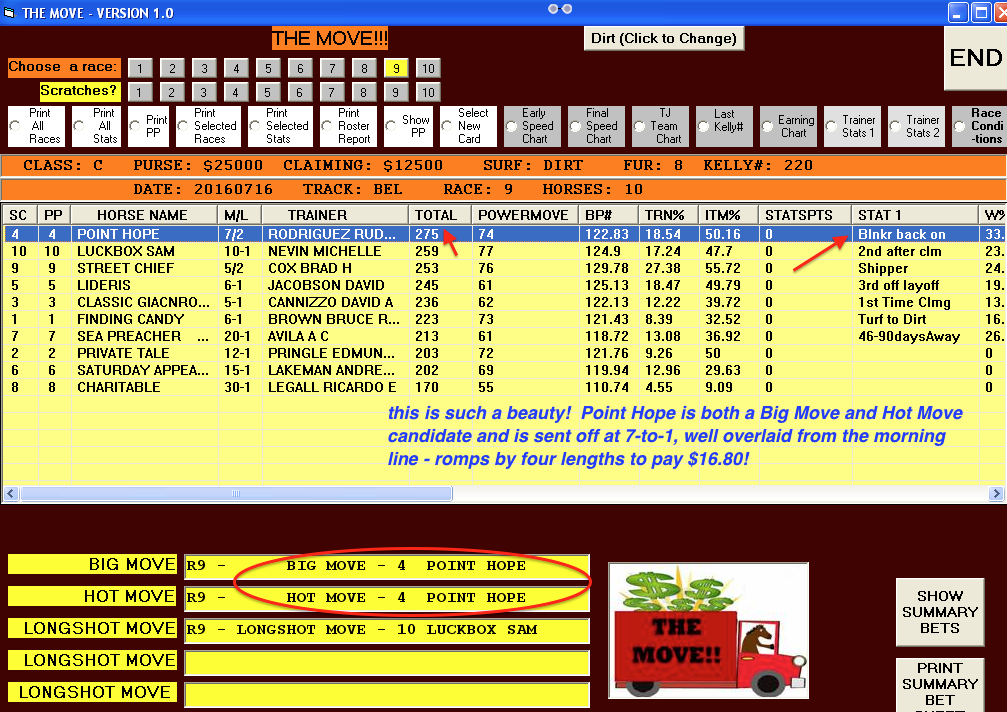 Column Explanations:
BIG MOVE =

The most potent kind of trainer move

, based on outstanding stats in one or more category that applies to today's race and adding in high numbers in Factor Columns

POWERMOVE

(a rating based on the trainer's overall ability on two or more factors over the past 24 months),  BP# (Bris Prime) & Overall Trainer Win % and ITM %.
HOT MOVE =

A high-percentage Win and, especially, In-The-Money Trainer Move

that reflects the trainer's past ability to turn today's relevant stats into a 50%+ on the board hit — these horses finish in the Exacta, Trifecta and Superfecta very, very often.
LONGSHOT MOVE =

The program, thanks to the MasterStat Pattern-Finder algorithm that works 'behind the scenes',

recognizes when a trainer is rolling the dice and going for a price.  There can be more than one Longshot Move in a given race — if both are at 6/1 or higher on the morning line, both are worth a play.
MORE INFO SCREEN!
There's a whole lot more info available to THE MOVE aficionado as well. 

You can simply scroll to the right and view even more extensive, important stats that will focus you into the trainers that are winnngly competent in other categories as well.  This can be especially helpful in wide open races, and trainers with lofty ITM% (in-the-money percentage) are must-uses in your Exotic wagers. 

(The screen below is the extension of the Strict Observance race from Arlington screen above.)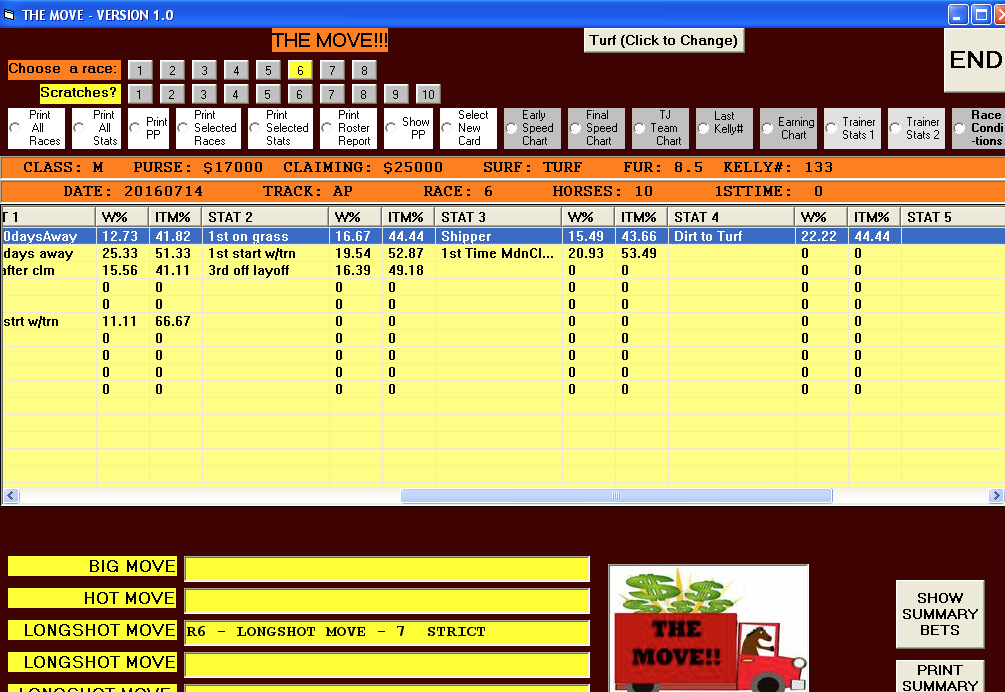 So, if you want a state-of-the-art software program, developed for a pair of big-betting professional handicappers —
a program that does, indeed, gauge the strength of trainer intent based on dozens of critical trainer-pattern factors —
a program that is not only extremely consistent but also catches bonanza prices frequently, then look no further than
THE MOVE!
Very fairly priced at just

$177

(you can take advantage of of 3-payment/no interest play if you wish).  You can download the program right away, or we can send you the disk and manual, or you can do both.
Give us a call at 1-800-696-0067 to order, or order from our website
Thanks, and please contact us if you have any questions whatsoever!
THE MOVE SOFTWARE PROGRAM   $177