We tightened up the rules a bit with the software, so while you will get a bit fewer plays than with the paper version, but this has made the system even more consistent.  Take a look at the Screen Shots below: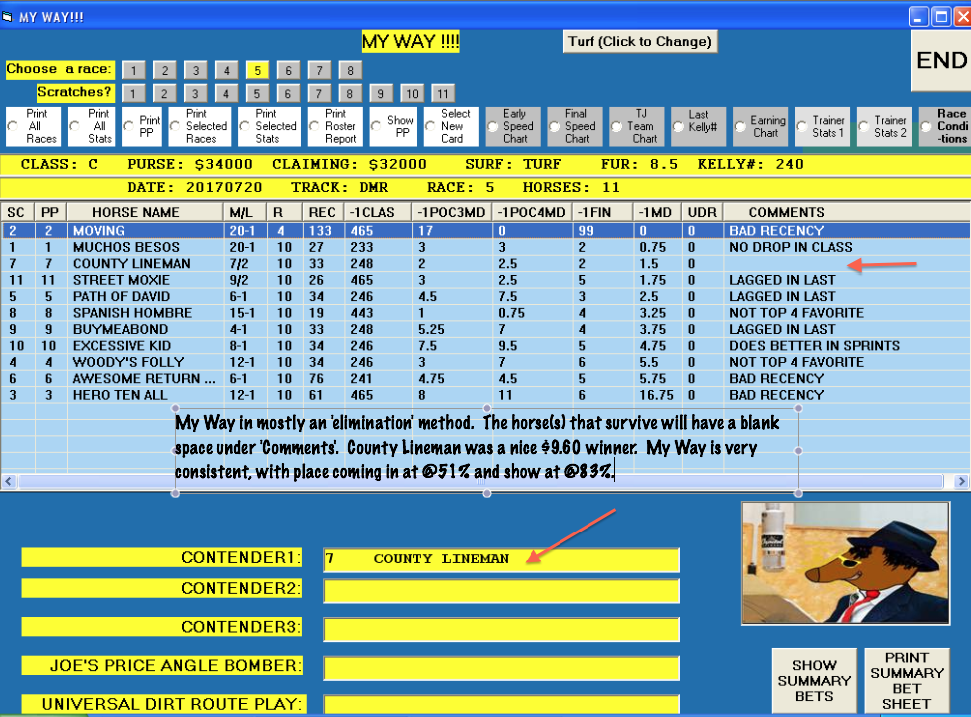 Column Headings
My Way

relies heavily on

Recency

(REC),

Current Class

(-1Class),

Running Positions at different calls

(-1POC thru – -1Finish), and a

Turn Time equation

(-MD)
UDR is the
Universal Dirt Route Scoring

.  This will only show up in races of one mile or more and only when a horse qualifies.  When a horse does qualify and has a 20 point or better advantage in that column, it is a strong play.
Comments:
The comment section contains the reason the horse was eliminated.  A 'blank' line under the Comments indicates the horse fully qualifies according to the rules of the system.
Contenders
When a contender is spotted by the software, the name of the horse will show up in the Contender1 Box.
If there is more than one contender, the Contender2 Box and/or the Contender3 Box will be filled.  Ties don't occur that often, so most often only the Contender1 Box will be filled.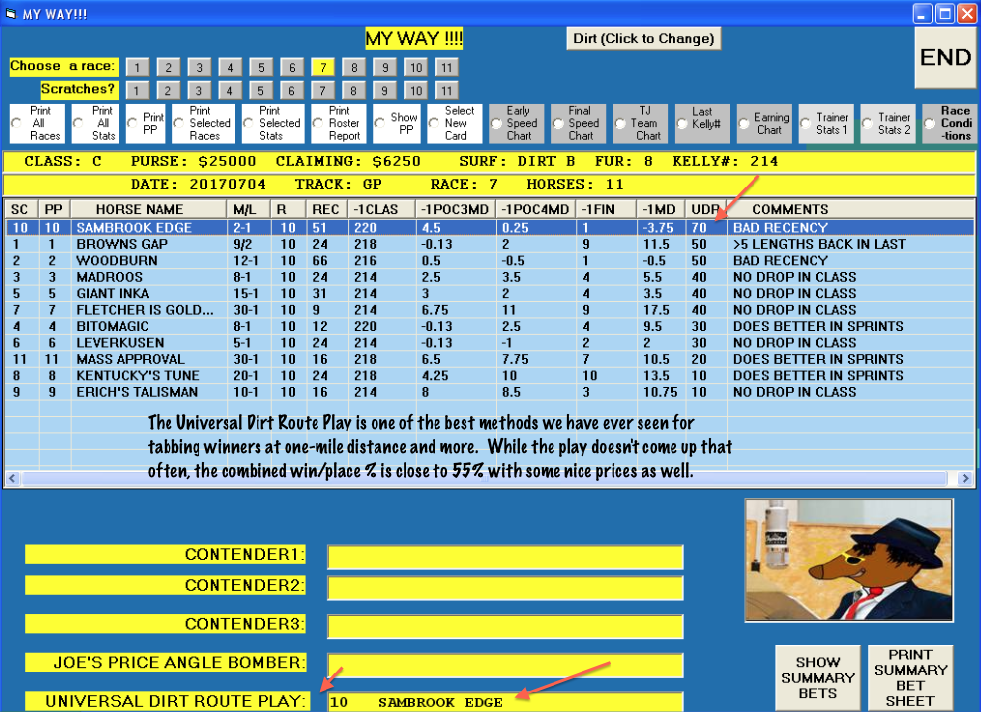 So it's very easy to see why My Way is so effective – horses must pass several strict elimination rules so when a Contender comes up, you know he's got a lot going for him.
Pricing
Considering the quality of these two programs, the pricing is extremely reasonable.  Joe's

My Way!

sells for just
$78

. 

Tri-Factor

is

$67

.
But if you purchase
Both

,

YOUR Price is just $99!
AND……….
P.S.

–

FREE BONUS!!!

  When you purchase either, or both, we will send you

FREE!!

the paper versions of Joe's

extremely high-%

PROVEN PROFIT CLASS MANEUVER!

&

THE ONLY SHIPPING ANGLE YOU WILL EVER NEED!!
So Give Us a Call at

1-800-696-0067

or order thru our website.  We will be offering the FULL PACKAGE ($99) Discount for

Just 14 Days!
And, of course, give us a call if you have any questions whatsoever.
NOTE: 

All purchases include Joe's Proven Profit Class Maneuver & The Only Shipping Angle You Will Ever Need!
MY WAY SOFTWARE  $78
TRI-FACTOR SOFTWARE $67
BOTH (14-Day Special) $99
MY WAY/TRI-FACTOR EBOOK Combo — $49.88
MY WAY/TRI-FACTOR Paper/Pencil Verison Combo – $55.88