Editors Note:

 

We continue with our 2017 mission to provide our customers with methodologies that were created and successfully used for profit at the racetrack by actual, true Professional Handicappers. 

And we've got a really neat offering for you —
>>>➼

Joe Alberti's favorite personal play,
MY WAY!
a high win % method that also gets a good amount of action.
Also included in the My Way program is the
Universal Dirt Route Method

,

which is the best system we have seen to consistently select win, place and show horses in races of one mile or more. 
>>>➪

Also, since many of you have requested it, Len has also programmed The Tri-Factor Continuum!,

which  produces the perfect blend of Class, Condition and Consistency to locate winning situations, both straight and exotic.

 
>>And the pricing for these two Professional Grade software programs is GREAT!  (see below).  Methods are also available in ebook and hard copy formats.
You are definitely going to want to add these programs to your Handicapping arsenal.  All the details are below and, of course, if you have any questions whatsoever, give us a call.
Joe Alberti's

My Way!
We begin with Joe's introduction to My Way.  As you will surmise, Joe was quite a racetrack 'character'.  He owned a bar across from the NBC studios in New York and his clientele included some of the most famous entertainment names of the day, many of whom were also die-hard horseplayers (he had a bookmaker's joint in the back room of the bar).  He tells us he learned first how not to play, based on the errors he saw daily from the losing horseplayers at his betting parlor.  But there were winners, and Joe gleaned info from these guy to eventually develop his positive-return strategies.  Here's Joe:
"They've called me 'Spot-Play' Joe, The Master of Simplicity, The 50%+ Kid, and a whole lot of other things, many of which I cannot repeat here!
>>My horseplaying reputation has been earned by developing very easy to use spot plays that get an extraordinarily high percentage of winners.

  I have one method, The Only Shipping Angle You'll Ever Need, that wins 65%+ of the time.  You don't get many plays, but when you do, you've got to get down on them.  I've got another, The Proven Profit Class Maneuver, that hits at close to a 50% rate, but again the plays are few and far in-between.
But 'action' has never been my bag.  I was perfectly content to just wait for the plays to come to me.  In the 'olden' days (pre simulcasting) I would sometimes wait for days for a play, as I only had one track to deal with.  There was no playing other tracks unless you used a 'bookie', a title which I owned for quite sometime.  Obviously, it didn't make sense to bet in my own parlor, so I used bookies in other parts of the city.  I could never keep a bookie for long, however.  They simply aren't interested in clients who win close to 50% of the time.
In the mid-1960's I just 'happened' on a method that not only won at a high %, but also got a lot of action.

  I wasn't used to getting between two and five plays per day, but here it was,

and I was collecting darned close to 40% of the time on the win end and near 83% of the time on show. 
I used this system for a full year with the results seldom varying by more than a few percentage points.

  I called it

'My Way'

, since that's exactly what it was.
Along with My Way, I continued of course to use my other methods, including a couple of others, The Magic 30 Method and The 2-Rule Wonder Method, and that handful of systems has made my life at the track not only a whole lot of fun, but very, very profitable.

 

I have traveled, own a nice home, drive a super car, etc., and I owe it all to the horses. 

And the fact that I find each race just as thrilling as the first time I attended the races back in the 1930's makes life a real ball!
Often when players see my methods their first reactions is something like:
'You've got to be kidding — how could this thing work?  It's so darned simple!'
>>Well, that's the whole idea, I tell them, minimum work for maximum pay.  That's been a lifelong philosophy of mine.
And your reaction to the My Way method of play may be similar.

 

But stick with it — use it for a couple of weeks and you will see what I mean.  It works, and it works well.

  You won't get a whole lot of big prices, the average win mutuel will be in the $7 range, which will make you a tidy profit, and if you're a place and show player, even better, and if you are an Exacta player the top qualifier makes for a great 'key' horse.
 Good luck and enjoy!"  

           Your Friend, Joe Alberti
We tightened up the rules a bit with the software, so while you will get a bit fewer plays than with the paper version, but this has made the system even more consistent.  Take a look at the Screen Shots below: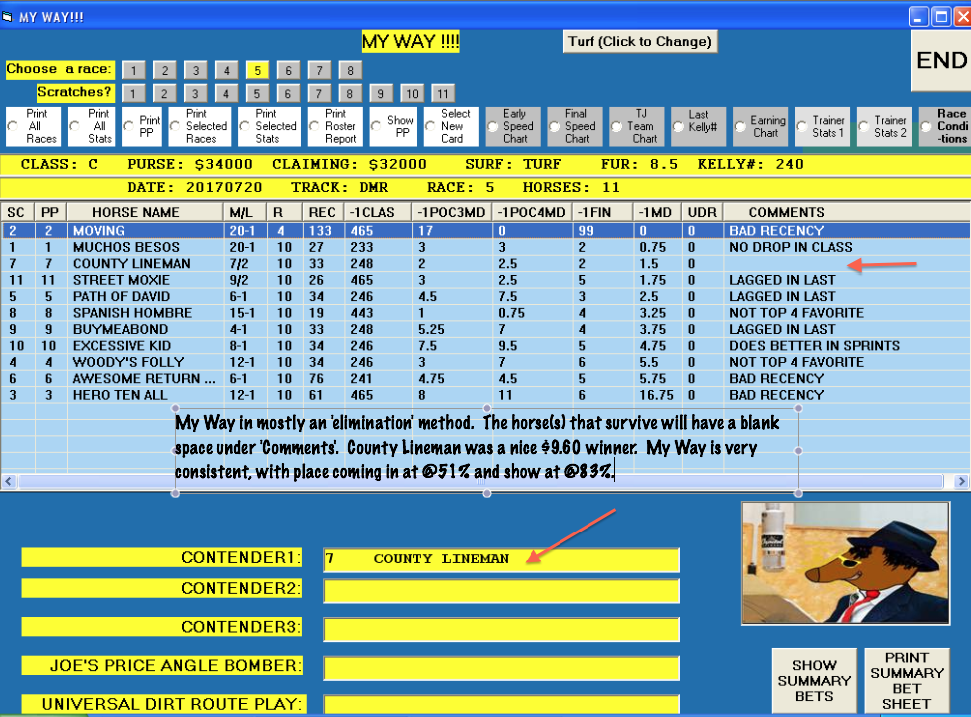 Column Headings
My Way

relies heavily on

Recency

(REC),

Current Class

(-1Class),

Running Positions at different calls

(-1POC thru – -1Finish), and a

Turn Time equation

(-MD)
UDR is the
Universal Dirt Route Scoring

.  This will only show up in races of one mile or more and only when a horse qualifies.  When a horse does qualify and has a 20 point or better advantage in that column, it is a strong play.
Comments:
The comment section contains the reason the horse was eliminated.  A 'blank' line under the Comments indicates the horse fully qualifies according to the rules of the system.
Contenders
When a contender is spotted by the software, the name of the horse will show up in the Contender1 Box.
If there is more than one contender, the Contender2 Box and/or the Contender3 Box will be filled.  Ties don't occur that often, so most often only the Contender1 Box will be filled.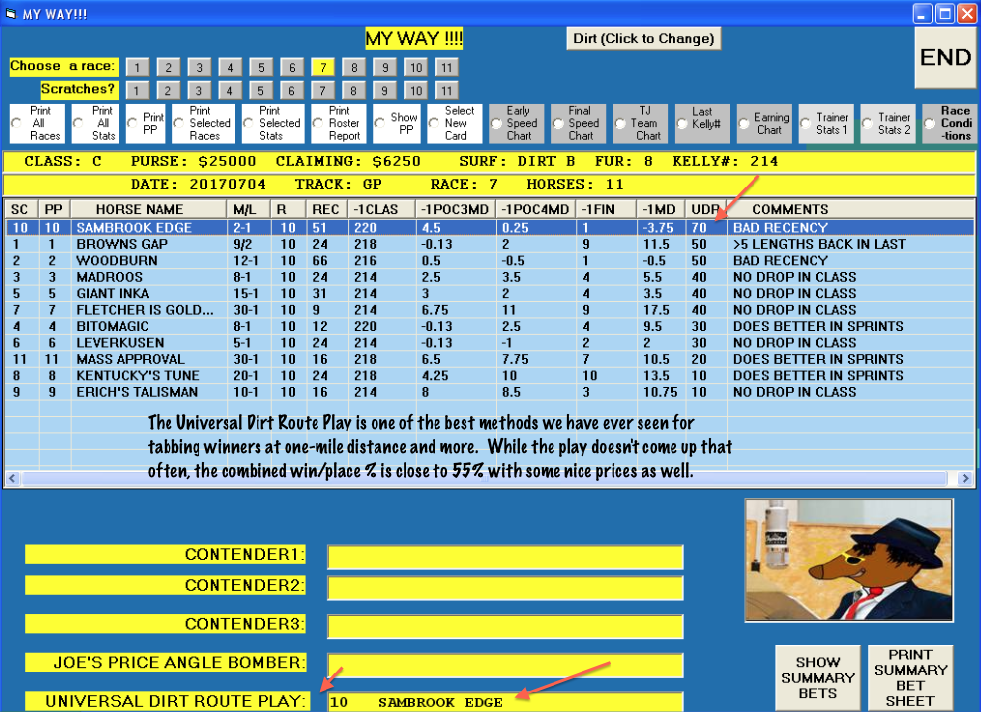 So it's very easy to see why My Way is so effective – horses must pass several strict elimination rules so when a Contender comes up, you know he's got a lot going for him.
The TRI-FACTOR CONTINUUM!
An Excellent, High-Percentage System Designed Exclusively for Claiming Races
When we first saw the title of this system, we thought it had something to do with Trifectas, but since it appears that it turns out that, while it is effective with Exactas & Trifectas,
the author designed it primarily as a straight-betting vehicle.
 What the
Tri-Factor Continuum

involves are three ('tri') different critical racetrack factors which can best be described as:
Class
Condition
&
Consistency
>>☛

Each factor is 'rated' and weighted, and, and the overall final total determines your play.<<
>>This is another one of those methods that takes obvious handicapping factors, and by 'weighting' them correctly produces a really nifty system of play.
The author obviously experimented with many many different combinations to come up with just the right one.

This is the kind of method we really like to see.
☛

It shows that while many handicappers simply use the 'obvious' to come up with obvious plays, others are able to take this readily available information and use it in a unique way to make a profit.
>>By the way, speaking of the Trifecta,
we discovered a neat little way to hit a fair share of Tri payoffs using a very simple 'keying' method. That strategy is included in the manual.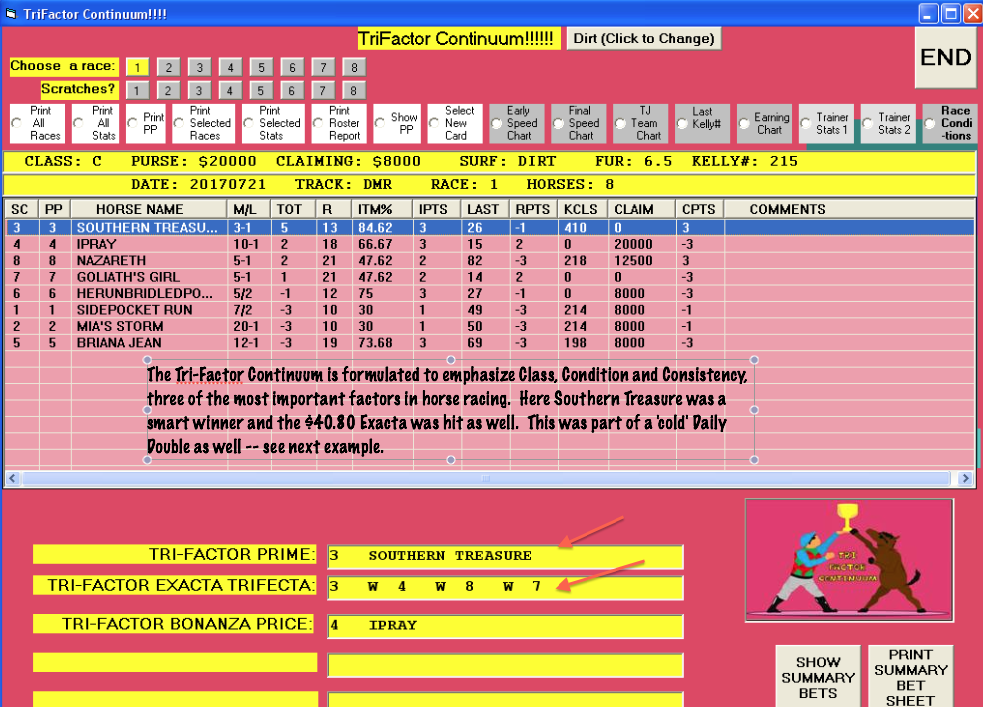 Columns
The Tri-Factor Continuum System adds or subtracts points for various performance aspects in the PP lines.  Horses get +points for a positive performance, and minus-points for a below-par performance.
Horses are rated on
In-the-Money finishes

(IPTS), which measures Consistency,

Recency

(LAST), which measures Condition, and

Class

(KCLS), which rates the horse's best level of competency and awards points for dropping back in class to his best level, or subtracts points if it appears that the horse is stepping up to a level where he may not belong.
The
TRI-FACTOR PRIME Box l

ists the horse who passes all the rules with flying colors.
The
TRI-FACTOR EXACT TRIFECTA

Box lists the horses considered most likely to produce a payoff.  The Exacta hit rate is @41% and the Trifecta hit rate @21%.  Some very nice prices result from these betting suggestions.
The
TRI-FACTOR BONANZA PRICE

Box is comprised of a unique set of factors discovered by the author. 

While this play wins only occasionally (@11%), the $31.22 average Win Mutuel makes this a profitable longterm play indeed.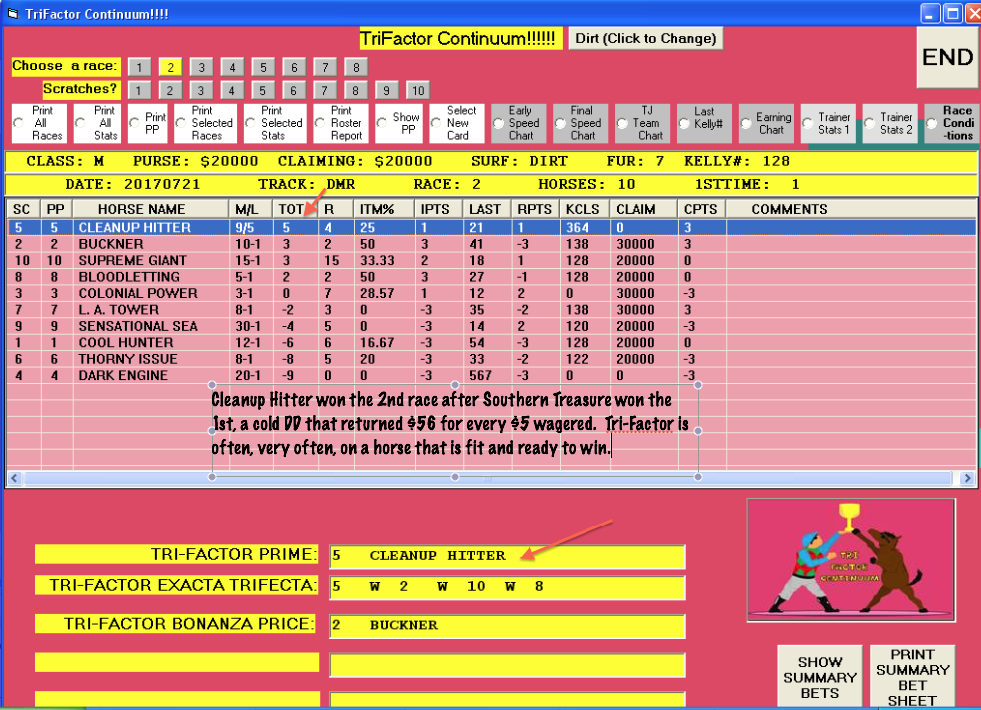 Pricing
Considering the quality of these two programs, the pricing is extremely reasonable.  Joe's

My Way!

sells for just
$78

. 

Tri-Factor

is

$67

.
But if you purchase
Both

,

YOUR Price is just $99!
AND……….
P.S.

–

FREE BONUS!!!

  When you purchase either, or both, we will send you

FREE!!

the paper versions of Joe's

extremely high-%

PROVEN PROFIT CLASS MANEUVER!

&

THE ONLY SHIPPING ANGLE YOU WILL EVER NEED!!
So Give Us a Call at

1-800-696-0067

or order thru our website.  We will be offering the FULL PACKAGE ($99) Discount for

Just 14 Days!
And, of course, give us a call if you have any questions whatsoever.
NOTE: 

All purchases include Joe's Proven Profit Class Maneuver & The Only Shipping Angle You Will Ever Need!
MY WAY SOFTWARE  $78
TRI-FACTOR SOFTWARE $67
BOTH (14-Day Special) $99
MY WAY/TRI-FACTOR EBOOK Combo — $49.88
MY WAY/TRI-FACTOR Paper/Pencil Verison Combo – $55.88