Jon Worth's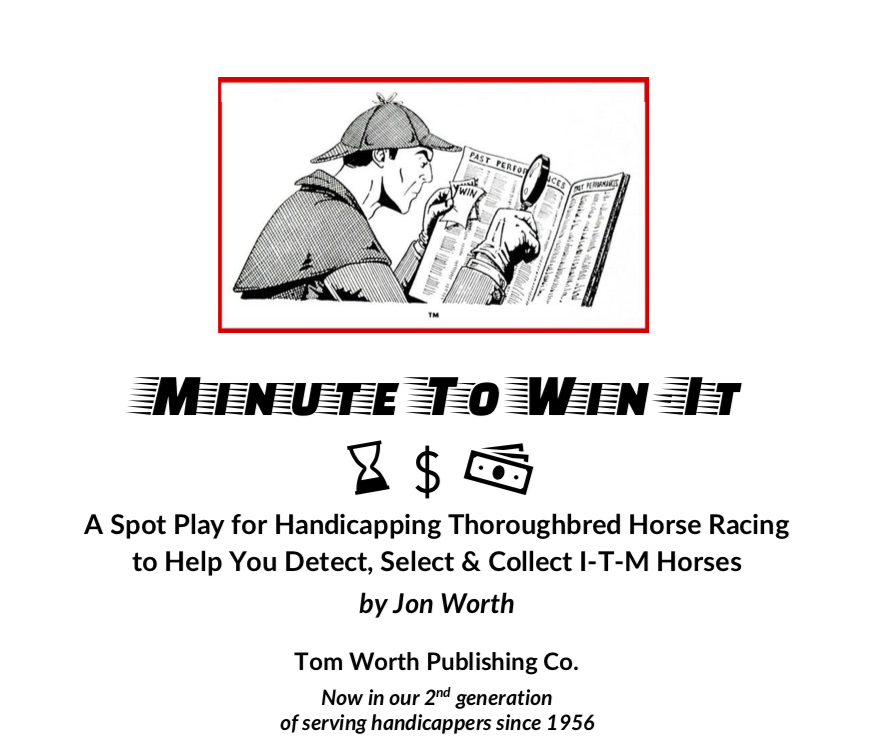 You all know Jon, and you know the type of quality products that he and his late father, Tom, have been putting out for darned near seven decades now. 
They have always focused on
Consistency, High Win/Place/Show %s and short, short runouts. 

His The Big Easy, The Four Aces, Show-A-Profit, Even Finish, etc., are great examples,
But NOW he has created a product that out performs even those!
He Calls It:
Minute To Win It!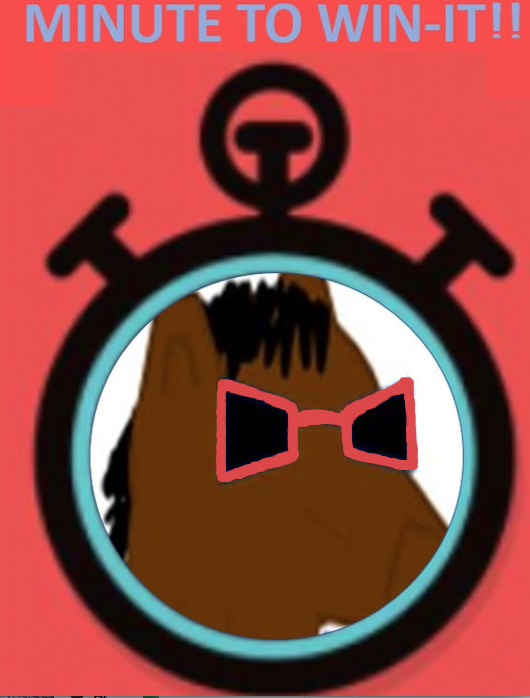 This is an easy-to-use, consistent & solid spot play designed to quickly handicap claiming races at a sprint distance to isolate selections with a high probability of running in-the-money.
Minute to Win-It! is a bread and butter spot play.

Because it is especially designed to be quick and easy to consistently spot in-the-money horses, there is a trade-off between enjoying a steady collection rate and hitting long shots.

For the convenience of handicapping certain races efficiently while realizing a steady collection rate, thereby growing your bankroll,

you are forgoing some long shot opportunities in sprint claiming races on the dirt.
And Just How Consistent is Minute to Win It?  Check out these percentages from Jon's 27-Day Workout, which is included in your package:
We performed a much larger study, of course, and our 54,332 sample data test showed the win % still over 50% (51.2), the place at 81.1% and the show almost exactly the same, 91.7%. 

In Jon's test, he showed one winning 'show' wager streak of 28!!  We found several in the 11 – to – 22 range.
The high collection rate in all 3 wagering slots kept run outs to a minimum. The consistent collection rate offers opportunity for a steady profit.

With so few runouts,

you're likely to fast track profits without a high degree of risk.

Enjoy a routine of collecting steady, moderate profits for handicapping and wagering on sprint races on the dirt. 
So for the Consistency Player, the show-parlayer, the weekend punter, etc., Minute to Win It!

provides the opportunity to pocket serious profits without the worry of runouts

—
Low Risk, Substantial Gain.

  It's a goodie!  Hard copy & Software.
———————————————-
—————–
————-
The Interactive Pace Line/Trainer APP Profit Generator!
Pick your own pace line, use what the program gives you, or use a combination of the two!  An innovative, INTERACTIVE Pace Program!
IPLTAPG

for short!
 

We know that many, many horseplayers enjoy having the ability to choose a certain running line for an individual horse.  This is, of course, easy if you are using a paper/pencil method, but with software it is not always possible.
Len was asked to write a program that would allow the user to select different pace line by a rather well-know national handicapper.  He wanted the main program to calculate total pace, but he also wanted the Interactive feature to exploit possible 'hidden' pace angles to incorporate into his exotics. 
'This project turned out better than I could ever imagine', Len tells us.  'I took the essentials from our Pace Ace software and Turn Time Plus software and combined them into a Total Pace program that, in my opinion, works brilliantly!'  
'Then I made it possible to look at different pace lines, as many as four back, and that did indeed open up some great price situations, especially in the exotics.'
So, what you have with

IPLTAPG

is a TOTAL PACE program, and if you simply want to go with the onscreen selections you will do just fine. 

But if you also want to explore, experiment and test using other running lines, you can enjoy that opportunity as well!
You will have fun with this one, and you will cash on horses you never would have given a second look to on your own!  

Almost Here! 

  Software only.
So in the coming days and weeks you will be hearing a lot more about these products –

Keep an Eye Out!

  Each and every one passed our rigorous testing standards and each and every one will help you pick a LOT more winners at the Track! 
1-800-696-0067