Who Says Horseplayers Don't Celebrate the Holidays? 

Well, while we may celebrate a bit differently than other folk (by heading to the track on these golden winter days), we nonetheless enjoy the 'giving', to the mutuel windows, and 'receiving' (hopefully) from the mutuel windows, right back!
And to help celebrate we have some great offers for you below.

 

How about a bankroll strategy that actually thrives on losing streaks, and will pull you out ahead everytime.

 

Or one of the best-selling racetrack books ever, which will make you a true 'expert' at Trifecta play

.  Also, a seriously consistent and profitable method from the prolific Dick Johnson which has shown positive returns at most tracks after a decade of testing!
And, not only have we reduced the price on all three of these great publications,

but we are offering you a fantastic discount when you order all three!!

  

In short, you can seriously add to your handicapping/ticket-cashing education at a bargain price!!

 

Psst:  Don't tell Santa — he paid full price for these just a month ago!
>>>

People often ask 'what is your best seller ever?  Well, here it is:  The Only Trifecta Wagering Book You Will Ever Need!
This is by far the best strategy book ever published on how to successfully cash Trifecta tickets. 

1

2 superb configuration strategies that will increase your Trifecta cash-in rate substantially — and that is a Guarantee!! 

***And another Guarantee is that you will now know more about Trifecta wagering than 99% of of the players out there! 

Don't Miss Out!!
Dick Johnson's
TRUE HORSEPOWER!!
One of the top Consistently Positive ROI Systems Ever Developed!  Check out the results below!!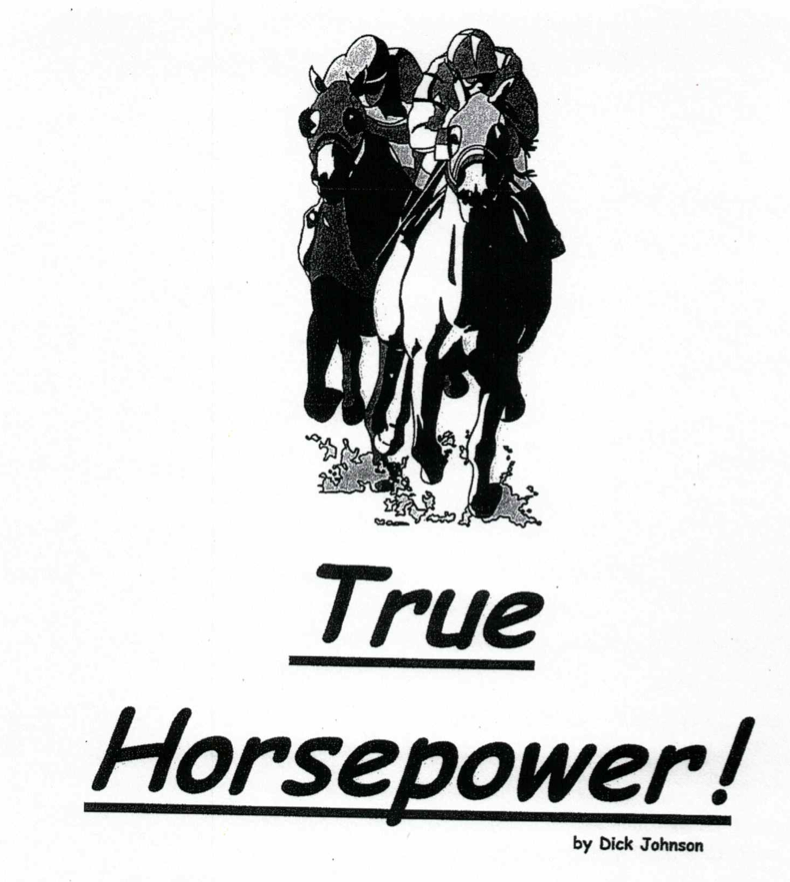 From Dick:
"I once saw an advertising poster at Portland Meadows racetrack that stated 'Only Horses Have True HorsePower!' 
That catchy phrase stuck in my mind, because something I was working on fit that description to a 't'. I had developed a formula designed to isolate the 'power' horse in a given race.
The concept was fairly simple. It of course involved speed and a neat little form factor I had worked out. But what really seemed to set it apart from the rest was a 'twist' I put on the pace factor.
When all was said and done, including research on over 120,000 races, I realized that I had created something truly phenomenal.
I asked a friend, who was just a casual player, to take True HorsePower to the track for two consecutive weekends and report the results.
He actually cheated a bit, and went four days one week. I knew because he called me every day.
Here's what his six days worth of play looked like: 
21 playable races (averaging a bit more than three per day); a win rate of 38% and a positive ROI of +44%.
Translated into dollars, his small win bets yielded him a tidy profit of over $185.
He also told me True HorsePower was extremely easy to use, taking about five minutes per race to figure, and that the top-rated horses hit the Exacta 63% of the time.
His experience almost mirrored the results that my extensive database test yielded.
Here's just a sampling:
Aqueduct: 33% wins, +74% ROI;  Golden Gate: 53% wins, +194% ROI; Oaklawn Park: 31% wins, +31% ROI; Philadelphia Park: 40% wins, +121% ROI; Tampa Bay Downs: 30% wins, +45% ROI; Charlestown: 34% wins, +53% ROI. The overall average from the 33 tracks tested:  a 34.4% win rate and a +62.1% ROI.
What that translates to, very simply, is doubling your bankroll every 55 days or so, something most horseplayers would give their eye teeth for.
But you don't have to give your eye teeth, or anything else so dear. True HorsePower is just $49,

and I'll make you a wager that with just $5 win wagers, you will have that sum and then some back after your first 10 bets!
And then it's up, up and away after that!! **
And I've got something else for you, absolutely FREE of charge.

It's called Wild Cards & Longshots!, and it contains three of the best big price-getting angles I've ever used.

I'll reveal to you The Monster Workout Angle, The Horse From Upper Classes and The New Trainer's Surprise!
So not only will you realize consistent profits from True HorsePower!, but you'll also have the

Wildcards & Longshots!

manual with you to cash in on the biggies! I can promise you that you'll love True HorsePower! Don't let this one slip through your fingers!!
True HorsePower!! is just $49 (reg. $75)     Ebook  $39.88 (reg. $54.88)

OK — and here is where the spirit of the Holidays really kicks in.

   Purchase any of the above products at the listed discount price. 

OR………..   Get all Three for a very special price. 

All 3 Hard Copies, just $68.88!!

   

All 3 Ebooks,  only $54.88!!
>>>But do make haste – this offer is valid only thru Opening Day at Santa Anita, which is December 26!!
Call us at 1-800-696-0067 or visit our website   www.rpmhandicappinggiant.com
The Very Merry Triple Product Hard Copy Deal  $68.88
The Very Merry Triple Ebook Deal   $54.88
CBS  $29.90
CBS Ebook   $24.88
The Only Trifecta Book   $35.00
The Only Trifecta Book Ebook  $29.88
True HorsePower  $49.00
TrueHorsepower Ebook  $39.88