Editor's Note:

 

Opportunities arise frequently, but Opportunities of the

'GOLDEN'

kind don't surface all that often.  Rob Henie's East Coast & West Coast Selection Reports are the most popular in the nation, and NOW you can take advantage of his expertise at a great introductory price!!! 

Read on….



The Complete

Santa Anita

or

Belmont

meetings, just $99 each,

or $189 for both

(Selections for every racing day for the period of April 17 thru July 18)!!
>>>

ANDDDD….  Includes Rob's Complete Triple Crown Analysis!  The Kentucky Derby, The Preakness & The Belmont Stakes!!
☞

Question: 
Why not simply hire a professional handicapper do the stressful work of selecting winners for you?

  People pay big money to hire, plumbers, electricians, lawyers, etc., to do work they either don't have the expertise or knowledge to do. 

So doesn't it just make perfect sense a pro to guide you to viable wagering opportunities at the racetrack as well?

 

And at this major discounted price (an individual meet normally runs from $199 to $299), you don't even have to play

—

you can just watch and record the results, which based on Rob's long term record, are almost certain to be excellent!
☞☞

The ECHR/WCHR Subscriber list reads like a

'Who's Who'

of horseracing.  But YOU, too, can belong this exclusive club!

  Trainer
Bob Baffert;

Expert Handicapper/Author

Steve Davidowitz;

Top Handicapper/Software Genius/Author

Tom Console;

Bob Neumeier

, NBC Television Racing Analyst for 25+ years;

Terrence 'The Hat' Bradley

, Renowned, Major East Coast Player for decades; and many, many more.  From $2 bettors to $200+ bettors, Rob's selection service has rewarded his loyal subscribers for years!
—————-
Steve Davidowitz

, author and Andy Beyer colleague, has been using Rob's Service for years: 

"You simply cannot beat Rob's expert analysis — I have finished most meets with a positive ROI, and these are the toughest-to-handicap meets in the nation."
————-"Henie's reports are written in a clear, concise, and logical way AND you will learn about the nuances of the game.

Personally, I highly recommend his work and would encourage all others to give it a read. I have and I'm glad I did."

     –

Bob Neumeier

, NBC Racing Television Analyst
25 plus years as TV analyst for NBC Sports
→⇒

And you know what else is coming up? 

Maiden & First-Time Starter Season!

  The Spring is when the babies (2 year olds) debut —

and Rob is without a doubt the nation's #1 Expert where these types of races are concerned. 

So while many 'experts' may tell you to avoid Maiden races, take a look at the first-time starters you would have cashed in on at the recently-concluded Gulfstream meeting. 

You would have shown a huge profit (+41%), in otherwords, just by playing Rob's debut winners!!: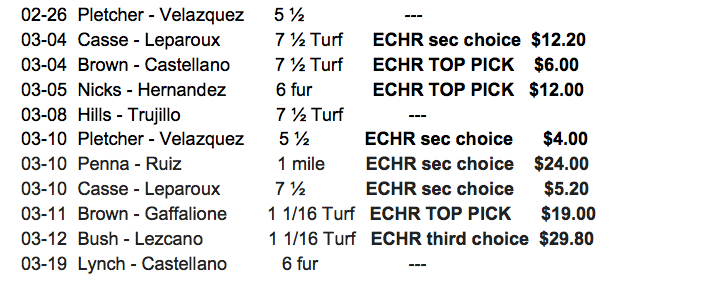 Commentary on Every Race, Every Day — Nobody in the Business follows East Coast & West Coast Racing Like Rob Does — His Commentary and Selections are based on not only years of experience, but also on information that the average horseplayer simply does not have access to.  Example of race analysis provided:




♦

Rob has shown positive ROIs at close to 90% of the meetings he has covered since 2010

.  He does nothing but immerse himself in the art of handicapping —  study trainer patterns, post position patterns, track bias, watch – over and over again – the replay tapes for each racing day looking for troubled trips, etc. —

he wagers on the same horses that he releases to his clients
>>>>This is the real thing folks. 

You've got an expert, winning handicapper providing you with detailed selections and consistently high prices.

 

Rob will do all the work for you — you are hiring a specialist with decades of winning experience behind him.

<<<<
And the pricing is great!!
>>>

– Less than $1 per day — less than the cost of a program — @1/7 of what a Daily Racing Form costs you

— and you don't need any of those with Rob by your side.

Full Santa Anita Meeting (thru July 10) – $99



Full Belmont Meeting (thru July 18) – $99
Both Meetings – $189.00!
>>>
>>>

And, Rob's Complete Triple Crown Selection Package for the Kentucky Derby, Preakness & Belmont Stakes is included at no extra charge!!
Don't Delay – Sign Up Today! 

Call us at 1-800-696-0067 or order from our website
Complete Belmont Package   $99
Complete Santa Anita Package   $99
East Coast/West Coast Combo  $189