Hurry!! The Fall Software Spectacular !-
The THREE Premium Handicapping Product Bundle!!
The BK Secret!, The Peter Dallas Professional Handicapper Experience Software!, The Pops & Tips Precision Exacta/Trifecta Module!
Purchased separately $302

– But You Can Get the entire BUNDLE for just $199 – a 33% Savings!!
>>>

But HURRY!

– Special Pricing Ends November 25!
There's something about the Fall & Early Winter, that seems to bring out some of the Best Handicapping Products of the Year.

  We have never quite understood the phenomena, though our theory is that as the weather rotates into the shivering mode, handicappers spend more time indoors and would-be authors actually put pen to paper or keyboard to computer screen and attempt to come up with winning handicapping methods.
And, as you know, that is an extremely difficult task, and winning systems are few and far in-between.  But we (RPM) are in the enviable position of being virtually the only outlet available for aspiring authors to test and/or market their products. 

Horseplayers and system-writers worldwide come to us with their methods, software, etc., for us to evaluate and perhaps market for them.

 

Most of what we see  fails to make money over the long run, but every once in awhile a real gem crosses our desk

.  And recently, a trio have qualified on that count

.
The BK Secret, The Software!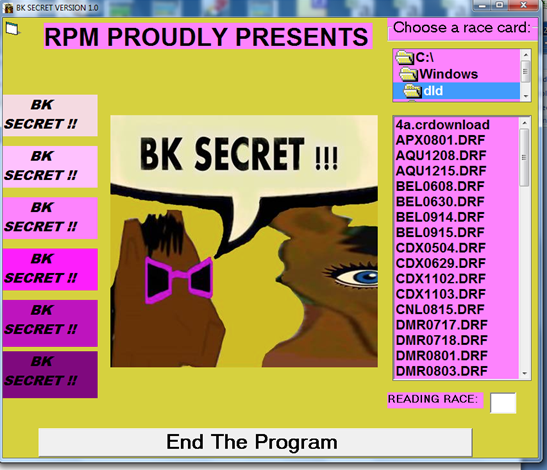 Bud Kemphert played like a professional.
He had an arsenal of angles, most of them spot-plays, all that showed long term profits.

 He would go out to the track daily and never make a play unless a horse fit one of his angles to a 't'.  

He wasn't interested in 'action' — he was interested in making money.

 
And make money he did, lots of it, over his 30-or so year career.
The interesting thing about Bud is that he didn't come up with any of his winning angles on his own.  

He instead could be called a 'collector', because starting years ago, that's exactly what he did; collected angles from fellow professionals. His intention, initially, was to compile 15 winning angles from 15 winning pro's.

 He was a lively, likable fellow and knew who the guys were who were making good money from the ponies.
He would befriend these fellows, explain about his concept for a book filled with profitable angles and ask if they would like to participate in the publication by revealing one or more of their favorite winning methods.

 While he was often turned down, he nonetheless did reach his 15-angle goal (we've included 10 of them in the BK Secret), sometime in the early 1990's.  He had every angle, written out longhand, tucked away in the satchel he carried to the track daily, and had purchased a new word processor to put everything in readable, and hopefully, publishable form. In the meantime, though, he had been putting the angles to his personal use, and with extremely good results.
We ran across Bud in the summer at Del Mar.  

When he learned that we were in the handicapping book publishing business, his eyes lit up.

 'I've got a book you can publish', he said excitedly, 'and I think it's probably better than anything else out there!' He told us the story about collecting winning angles from pro players.  'I never got around to writing the book,' he told us, 'but I'm getting up there in years now, and though the track has been good to me I wouldn't mind a few extra bucks coming in as royalties.'
>>>

So what we have is consolidate all of Bert's Angles into one Powerful Consensus Software Program that, overall, picks an even higher % of winners than any of the individual angles on their own.
<<<
Remember, some of the most successful players in the game are Angle Players.  Some have just one angle they've stuck with for years, while others have several angles they pull from. 
BK Secret!
has several profitable angles rolled into one.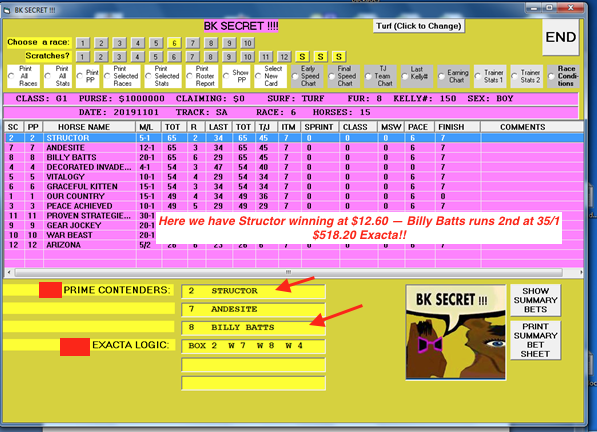 The Peter Dallas Experience — Winner Selection Honed to a Fine Edge!!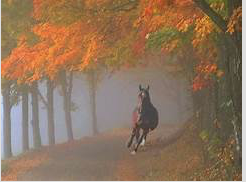 The Pops & Tips

'ET'

Exacta/Trifecta Module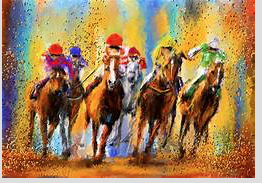 The original Pops & Tips, which is now known as just TIPS is, in many handicappers' opinion, is the best mechanical system ever produced.  Of course, TIPS was ingeniously programmed by Len Cz into an amazing Software program — a program that is so well thought of that it elicited a 64-page discussion, the biggest ever, on a popular handicapping website, with close to 100% positive commentary.
A few weeks ago Len, who was at a Vegas racebook with some friends, watched three horses that were prominent in the TIPS Program complete a Trifecta of $5,459 — the Exacta paid $831. 

It came to him that there was no reason he could not redesign the TIPS program to focus on catching lucrative Exotic payoffs and that very evening went to work on it.
Using his very, very large database, he began to search for factors that would produce relatively consistent Exacta and Trifecta results, while at the same time have the potential to catch some giant payoffs.
  'I was surprised to find that the very first formula I programmed seemed to produce exactly what I was looking for.  So, I ran it over thousands more races, then another 35,000 race test, and the production was the same. 

I was hitting just about 40% of the Exactas and close to 21% Trifectas.

  For results tabulations I only played Exactas if there was at least one horse at 5-to-1 or better in the box, and for Trifectas I required that at least one horse was 8-to-1 or higher and one other was 5-to-1 or higher (I was doing 4-horse boxes with Exactas and 5-horse boxes with Trifectas).  Also, I limited play to races of 8 horses or more.'
'The overall ROI on Exactas was +33% and on Trifectas +41%.  Of course you will have some runouts playing in this style, but you will also very likely hit some of the biggest exotic payoffs of your horseplaying life.'
So The Pops & Tips Exacta/Trifecta Module

i
s a very practical way to enter the world of Exotic wagers with an assurance that you will come out on top over the long haul

.  While Len's database test never hit a $5,000+ Trifecta, it did hit  $4,781, $4,222 and $4,001 payoffs and several in the $1,900 to $3,800 range. 

Most, though, fell in the $150 to $850 range.
So you can buy any or all of these breakthrough products separately, or you can get the whole ball of wax for just

$199!

 

>>

But Don't Wait — Special Bundle Pricing ends November 25!!
Thanks, and call us with any questions. 

1-800-696-0067
The BK Secret Software   $97.50
BK Secret Hard Copy  $59.00
BK Secret Ebook   $49.50
The Pops & Tips Precision Exacta/Trifecta Module   $74.50 
The Peter Dallas Pro Experience Software   $128.00
The Three-Product Fall Feature Bundle  $199.00!!