Tyne Thompson's
Supplemental Social Security
Fund Method!  Now In Software!!



We like to be surprised.
Pleasantly surprised, that is. And we certainly were once we completed our analysis of
Tyne Thompson's
Supplemental Social Security Fund Method.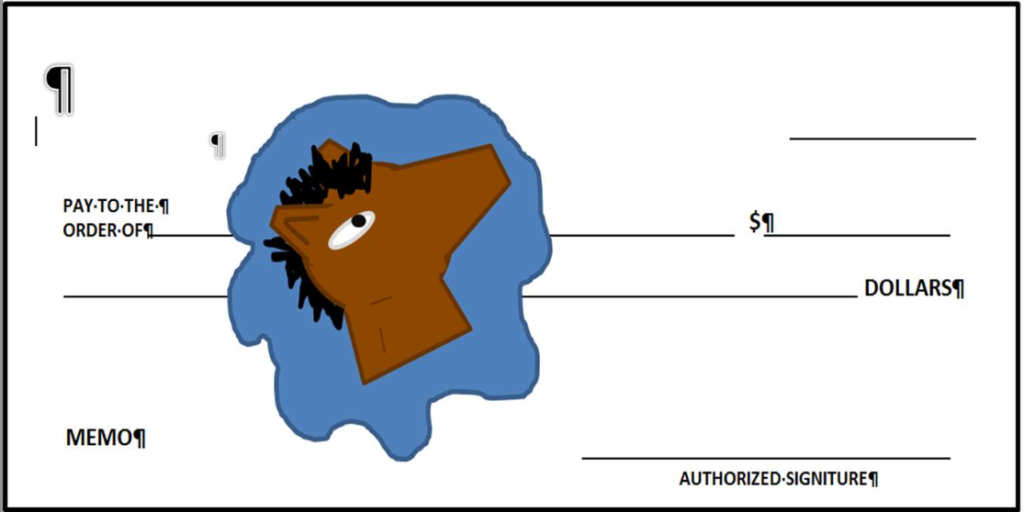 We first heard about this method from a friend who asked if we had run it through our database yet.
'You ought to take a look at this one,' he told us,
'I've gone back over three-months worth of Forms and it's coming up with lots of decent-priced winners. I've got a return of +22% after testing about 400 races.'
Well, that was enough to get us interested, so we phoned the author (another plus, you could actually pick up the phone and talk to the guy) and asked if he'd please send us a copy.
First off, no wild claims were made by the author.  In fact, most of the method was developed by his Dad, many years ago.**
Tyne (an Ohio resident) told us he also called this his '2nd social security method' as he had used it to supplement his pension over the years.
He said he was averaging about a +20% return on investment with the method, which averaged two to three solid plays per day per track.
'I've seen it all over the years of dabbling with parimutuels,'' Tyne told us, ("and I've learned that I don't need a lot of action but I do need the money!")
With the SSSFM I can sit back and let the plays come to me. I always wanted to retire at the racetrack, and this beats anything else I can imagine!'
The method was originated, he told us, by his father after he had combined several promising spot-plays, purged the duplications and added in a pretty powerful 'class' factor.
This factor looks a bit strange at first, but is based on some serious impact-value studies from some well-known racetrack statisticians.
SSSFM – The Fascinating Background
I've always been a big fan of
Robert Saunders Dowst

, the handicapping sage who was active writing methods and handicapping for a living from the 1920's thru the 1960's.
My father had purchased several of his methods back in the '40's and combined a few of them to create his own methodology which was successful at the racetrack.
My Dad would average roughly $200 to $300 'extra from the racetrack per month, which was big bucks in those days. 
Especially since his salary as a pipe-fitter was only $240 per month.
He brought me to the racetrack for the first time (Aqueduct) when I was 11 in 1945.
I already knew how to read the Racing Form since my Dad would purchase a copy daily.
He would lay off most of his bets to the local bookie but save his bigger wagers for the weekend when he could attend the track. 
The weekends also offered more of the type of races my Dad, and Mr. Dowst, found most lucrative.
    As RSD often observed, it doesn't make sense to play races where the handicapping process comes down largely to a guessing game. 
His emphasis was on races that historically proved the most formful.
And even though when he first started out with this theory, there wasn't a whole lot of 'published' horseracing history available,
he knew which types of races were the easiest to predict by applying some solid handicapping rules.
Now, by 'most formful', does not mean that you are always playing the favorite. 
Instead, you are weeding out the non-contenders and focusing on the likeliest win/place horse. 
Back then, the Daily Double was the only 'exotic' wager available. 
With all the exotic options that exist today, this kind of method can put you on good-paying Exactas and Trifectas as well as straight bets.
Anyway, back to the main subject.
Dowst, thru years of observation, realized that the most reliable types of race horses are
1) males and
2) males that are racing in Allowance races or Stakes races or higher-level claiming races and,
3) males that are racing in Allowance races or Stakes races that are carded at shorter distances, i.e., Sprints and,
4) males that are racing in Allowance races or Stakes races that are carded at shorter distances and that also contain 8 entries or less.
So this is the basis of the method.
This is basically the method my Dad presented to me, although I have made a few changes that have resulted in more action — see below
***

.
You do not get an overwhelming amount of action*** – but you will get two or three solid plays per day, especially on weekends when the better races are carded.
Tyne has simplified it to the point where any player who knows how to read past performance lines can use it.  And if you have the software, of course, you don't have to worry about pps.

He handicaps three tracks per day and only plays the method's 'standouts'.
You can get more action by playing the marginal qualifiers as well, but your overall ROI will be cut in half.
***Ahh, but we have also included another version of the method in the Software version, which is especially great for cashing in on nice priced Win, Place and Show payoffs,
so if you want more action, it is there for you!
Below take a look at a lone qualifier at River Downs May 30.  Chromatic had a big bulge on points yet still cashed in at $95.20! 
Using this part of the program, Betting lone qualifiers at morning line odds of 8/1+ results in a +48% positive ROI!!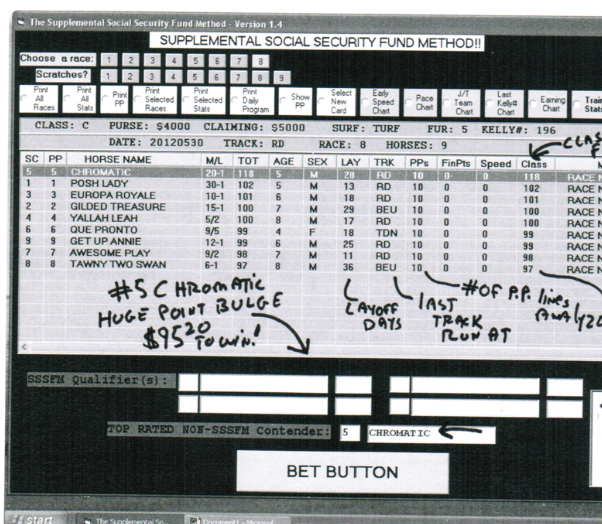 Win    Place  Show    Wager Type
5    95.20    20.60 7.20
4            2.60   2.6o
3                       3.40
Here's another standout, this one at Mountaineer, with a 30-point bulge.  She was 10-to-1 on the morning line and 4-to-1 at post time.  She won easily at $10.40.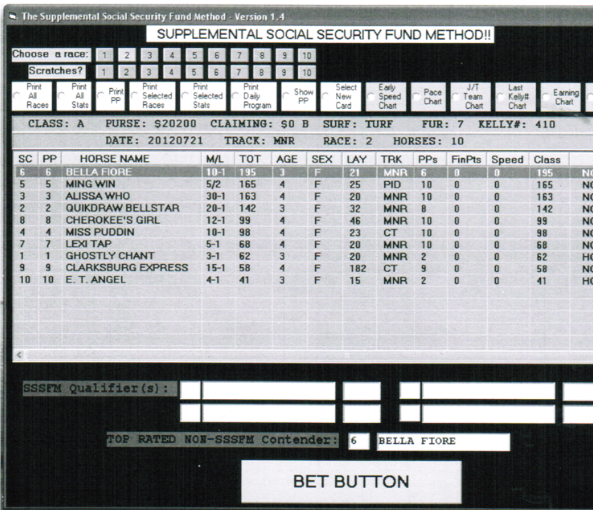 Saratoga is a tough track to handicap, given all the shippers, etc., early in the meeting.  But SSSFM was not fooled, as it picked Cozy App at a beautiful $29.60! 
Using the recommended wagering strategies (boxing the top three high scorers in the Exacta), another $99.50 payoff was realized.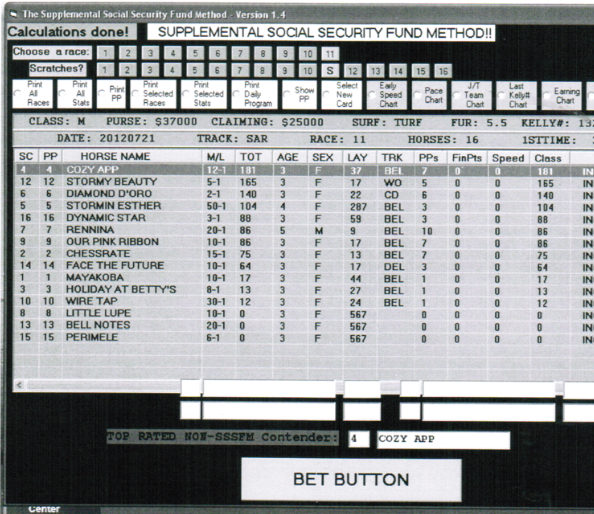 Del Mar's short summer meeting and Polytrack surface makes for a confusing mix for the handicapper.  But SSSFM is able to pull in some good ones, like Arabian Storm at $24.20.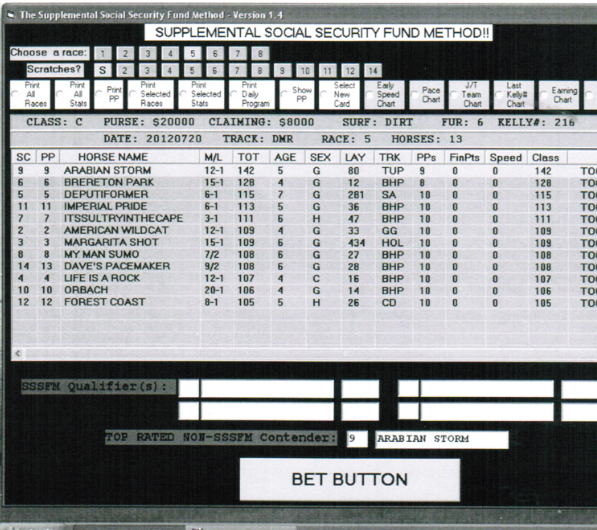 And check this out — we randomly chose a couple of days, July 20 and 21, and looked at three tracks, Saratoga, Del Mar and Mountaineer.  Below are the results.  Note the amazing consistency. 
Ask yourself, would your own handicapping have gotten you this many Exactas, plus a monster Superfecta and Trifecta?  And, all on small tickets with just three to four horses boxed (5 boxed for the Super). 
And this number of great-priced win and place payoffs?  If the answer is no, than make a small investment in the SSSFM Software program – you will be cashing more tickets at better prices then you do now.  Guaranteed!
Mountaineer – 7/20 (races 5 thru 10 were canceled)
1) Iron Head, 1st + $15 exacta
2) Mean Surge  2nd
3) Maudie Jo 2nd
4) out
7/21
1) Sneakin Thru  2nd
races 2 & 3 no play
4) Shannon's Beau  3rd
5) Blessed Bullette 2nd at 9/1 + $33 exacta
6) Flatland Fever  2nd
7) out
8) John's Burger 1st $14
9) Quiet Emarati (coupled) 1st
Saratoga 7/21
1) Perfect Officer 2nd + $26 exacta
2) Show Some Magic 2nd + $60 exacta
3) out
4) Knock Quality 2nd at 8/1 + $74 exacta
5) How Do I Win 3rd
6) out
7) scratched
8) out
9) Shrewd One 1st $8.50 + $65 exacta + $699 trifecta
10) out
11) Cozy App 1st $29.60 + $99.50 exacta
Del Mar 7/20
1) out
2) A Toast To You 1st $7.20
3) out
4) Miss Well Molded 2nd + $29 exacta
5) Arabian Storm 1st $24.20  + Superfecta $2,044 (recommended 5-horse box – this is the $1 payoff)
6) out
7) scratched
8) out
7/21
1) out
2) scratched
3) Acclamation 1st $3.00
4) Elvies Lane 2nd at 35/1! + $34 exacta (the heavy chalk won)
5) major Magic 3rd 11/1
6) Den's Legacy  2nd
7) out
8) Broken Dreams  1st  $16.20 + $80 exacta
9) Power Series 3rd 10/1
10) out
The SSSFM Software employs a quick point-count system which takes into account Form, Speed, Condition, Consistency and Class as well as dozens of other programmed-in Critical factors.
The author recommends against playing wet tracks or races where more than two horses show two or less lifetime starts.
The figuring is easy, taking about five or six minutes per race with the paper and pencil version,

and no time at all, of course, when you are using the Software version.



You can use any past performance lines to compute your figures, Racing Form, Bris, Equibase, TrackMaster, etc.  The software uses the $1 bris single data file.


→→Now here's the neat part: We ran three separate tests of roughly 1,800 races each. The results were amazingly consistent.  In this test every qualifier was played, regardless of odds.

We averaged 26% winners at an average win mutuel of $9.43 for an ROI of +22.6%, very close to what Tyne said he had been getting over the years
and almost exactly the same return as our friend who did the 400-race test realized. 

And, as shown above, a considerably higher ROI was realized by using the higher odds plays.
The Supplemental Social Security Method
is a well thought out, thoroughly researched, logical method of play that performed better than most systems we have tested.
And now that the Software SSSFM is available, you only have to click your mouse a couple of times to get plenty of action, lots of good priced winners and a darned decent positive ROI!
$59.50 (paper & pencil version)
$77.50 (Software version)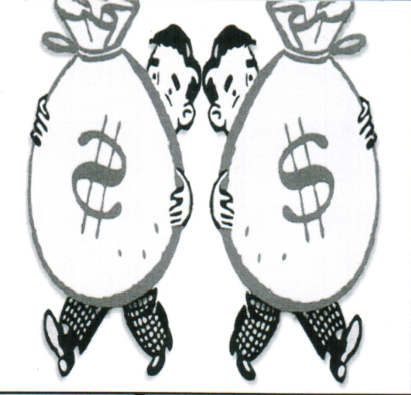 RPM Product Order  Supplemental Social Security Fund paper & pencil Method  #4615  $59.50
RPM Product Order  Supplemental Social Security Fund Method Software  #4625  $77.50